Giving to the J-School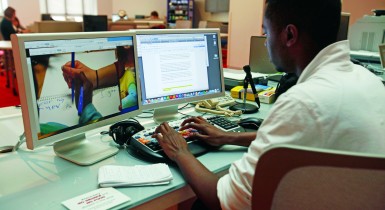 Giving to the J-School
Why Give?
Your support helps the Missouri School of Journalism continue to be the global leader in journalism education, realizing the vision of dean Walter Williams more than a century ago. From the very beginning, philanthropy has been instrumental in helping us chart a course of excellence. All of our buildings, beginning with Neff Hall in 1919, were made possible largely by private funds. Many of our globally renowned faculty were attracted to Missouri because of privately endowed chairs. Generous alumni and friends have created hundreds of scholarships that help us recruit the brightest students from around the world. And our hallmark Missouri Method of learning by doing thrives in our real-world media operations – the Columbia Missourian, KOMU-TV, KBIA, Vox magazine, Global Journalist and Mojo Ad – because of the generosity of others.
Journalism Annual Fund
The Journalism Annual Fund is made up of thousands of gifts from the school's loyal alumni, students, faculty, staff and friends. This support is essential to maximize the day-to-day operations of the school. Contributions benefit all areas of the school including scholarships, technology and laboratory equipment, course development, research projects, facilities enhancements and so much more.
Endowed Funds
Unlike the Journalism Annual Fund, which provides immediate resources for the school, endowments are permanent funds that distribute an annual payout year after year. Endowments continue to give forever. J-School endowments range from completely unrestricted, allowing the school to be flexible to meet its greatest needs and take advantage of unique opportunities, to scholarships and fellowships, endowed faculty positions and funds that support the school's programs and learning laboratories.
We welcome gifts of any size to existing endowments. If you are interested in establishing a named endowment with a minimum gift of $25,000, please contact the Missouri School of Journalism Office of Development.
Here is a sampling of existing endowments that provide crucial support to the J-School:
Journalism Unrestricted Endowment
Missouri School of Journalism Scholarship Endowment
Columbia Missourian Endowment
Journalism Library Enhancement Fund
Pictures of the Year International Endowment Fund
Bequests and Planned Gifts
You can make a dramatic impact on the Missouri School of Journalism through a bequest or other planned gift. These types of charitable arrangements let you support us far into the future while also providing potential tax and other benefits to you.
The simplest way to make a lasting difference is to remember the school in your will. You can bequeath a specific amount or a percentage of your estate. Your bequest can provide unrestricted support for the school or benefit a specific program.
If you would like to make a major gift but choose not to part with income during your lifetime, you may wish to consider establishing a life income gift—for example, a charitable remainder trust or gift annuity. These gifts would pay income to you for a specified period of time, after which the assets are distributed to the J-School to be used for the purposes you choose. Life income gifts can provide tax savings and possibly increase your income while allowing you to make a meaningful gift to the school.
Use the tools and resources on this site to find the gift that is right for you.
If you have questions or wish to explore options, please contact the Missouri School of Journalism Office of Development.
Donor Recognition
The Walter Williams Society, founded in 2002, recognizes the generosity of donors to the Missouri School of Journalism. Membership is given to individuals who have contributed at least $25,000 during their lifetimes or made planned gifts or estate provisions of at least $50,000.
Benefits:
Walter Williams Society members take pride in knowing their support allows future generations of journalism students an education at the world's first and best school of journalism.
Members become part of the history of private support that began in 1908 and has continued to keep the school great.
Members receive dual membership in the Walter Williams Society and MU's Jefferson Club.
All members receive a copy of The Journalist's Creed.
Members receive invitations to special Walter Williams Society programming.
Contact Us
If you have any questions or would like to discuss options for supporting the Missouri School of Journalism, please feel free to contact us.
Missouri School of Journalism
Office of Development
103 Neff Hall
Columbia, MO 65211
(573) 882-0334