Kappa Tau Alpha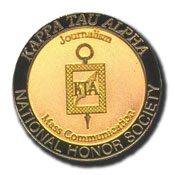 Kappa Tau Alpha
Kappa Tau Alpha (KTA) is the national honor society for students majoring in journalism and mass communication.
Founded at the Missouri School of Journalism in 1910, KTA recognizes academic excellence and promotes scholarship. This prestigious group accepts the top ten percent of each graduating class as members. Kappa Tau Alpha means, "The Truth Will Prevail" and its Greek letters stand for Knowledge, Truth, and Accuracy — words that encapsulate the mission of the society.
If your grade point average qualifies you to be a member of Kappa Tau Alpha, you will be invited to join the society. You also will receive recognition at the journalism graduation ceremony.
Additional Resources:
Kappa Tau Alpha