Upper-Level Non-Journalism Requirements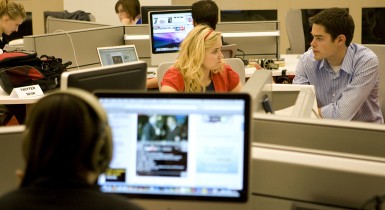 Upper-Level Non-Journalism Requirements
These courses are meant to expand upon general education courses from the first two years of study. These courses can be used to meet dual degree or minor requirements from other academic units. Students pursuing a dual degree must complete a minimum of 132 credit hours.
All courses must be at the 3000 or 4000 level or GN HON 2000H or above.
These requirements will be effective for students beginning course work in an interest area during the Spring 2016 semester. Students already taking courses in an interest area can follow previously established guidelines or the requirements listed below.
Area 1
Credits Required: 3
Students choose from one of these areas: anthropology, astronomy, biology, chemistry, computer science, geology, math, physics, psychology, sociology or statistics.
Area 2
Credits Required: 6
Students choose from the following areas: black studies, economics, geography, history, peace studies, political science and women's and gender studies.
For Strategic Communication students, MRKTNG 3000 fulfills three of these six credits.
Area 3
Credits Required: 6
Students choose from the following areas: architectural studies, all art prefixes, classical humanities, classics, communication*, English, film studies*, French, German, Hebrew, Italian, Chinese, Japanese, Korean, Latin, all music prefixes, philosophy, Portuguese, religious studies, Russian, Spanish or theater.
Exceptions to the 3000 and 4000 level rule include MUSIC NM 2306 and ART GNRL 2030. Students are permitted to apply these courses to Area 3 requirements.
Area 4
Credits Required: 14
Fourteen additional hours of acceptable non-journalism courses are also required to meet degree requirements.
Students in the Strategic Communication interest area must complete three of these hours in Marketing.
Flexible Credits
Students can take up to 4 credits of journalism prefix electives in place of credits in Area 4.
*The School of Journalism prohibits certain courses. To avoid taking a course that will not fulfill Bachelor of Journalism requirements please visit the Course Exceptions page.
Coursework must include at least one course numbered 2000H or 3000 or higher in two of the three content areas of distribution.
Students should consult with their assigned academic adviser if they have questions regarding courses in these areas.