Apply for an Interest Area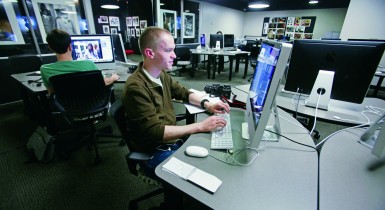 Apply for an Interest Area
The School offers more than 30 interest areas in the fields of journalism and strategic communication to undergraduates. Students generally apply to the area of their choice in the first semester of the sophomore year.
Application Requirements
Students who wish to apply for a journalism interest area need to meet the following requirements:
Will have completed 60 credits before beginning interest area courses.
Completed all pre-interest area course requirements as well as other academically accepted courses as specified by the School of Journalism.
For students whose native language is other than English:

A minimum TOEFL score of 600 or IELTS overall score of 7 with no band score below 6 is required to be admitted to the School of Journalism, to the pre-journalism program in the College of Arts and Science or to any journalism course. Permission to enroll with a lower TOEFL score may be granted after a supervised, written test in English and an interview conducted by two faculty members.
To be considered for the interview and written test, students must have a minimum 2.80 GPA of record and 30 MU credits. Should the two faculty members disagree on whether to admit, the student must meet with the associate dean for undergraduate studies, who casts the deciding vote. Students with scores lower than 550 TOEFL or 6.5 with no band score below 5.5 IELTS usually are not considered for an interview.
How to Apply: Directly Admitted and Pre-Journalism Students
Directly admitted and pre-journalism students should complete the following in the semester before they will begin their interest area studies. This is generally the second semester of their sophomore year.
Submit the interest area preference application. For those who will begin their studies in the fall semester, this should be done even if the final admission requirements will be completed during the summer.
Students can submit the interest area application up to two weeks before the deadline.
Submit the form by the deadline.

Nov. 15 for admission in the summer or fall semester.
Sept. 1 for admission in the spring semester.

The School does not guarantee first choice of interest area. It may be necessary from time to time to limit enrollment in high-demand areas.
Appeals Process
Students denied admission to the School of Journalism can appeal the decision. The Journalism Undergraduate Admissions Committee extensively reviews individual applications for admission from students in this category. Criteria used in evaluating these applications include a student's stated passion to work in the fields of journalism or strategic communication, demonstrated commitment to journalism or strategic communication (as evidenced by work with student or professional media, high school activities or participation in journalism student groups), needs of the profession, and the like. The committee also will attempt to match interests of students in this category with openings in the School's various academic disciplines.