Alumni Profile: Susan Parsons
Columbia, Mo. (Feb. 28, 2016) — Susan Parsons, BJ '10, sees the importance of teamwork and collaboration every day in her professional life. It was during her undergraduate years at the Missouri School of Journalism that she learned these skills that allow her to succeed in her career today.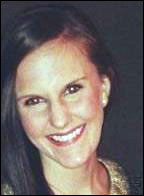 "I think the Missouri School of Journalism prepared me for the collaboration, level of responsibility and overall dependability required to succeed in the workplace," Parsons says.
Although she moved away from the magazine journalism she studied as an undergrad, all of the skills she learned during this time have helped her in her career. Today, Parsons works as a senior account supervisor for the Zocalo Group, a small digital and social marketing agency based in Chicago. Her daily duties mainly involve keeping her clients up to date on the latest digital advertising trends and helping them make the best choices for their brands on social media. Parsons also oversees her account team who performs research, analytics and continually brainstorms fresh creative content for her clients.
Parsons remembers the transition from being a student to a full-time working employee put her in a "very difficult environment, while the hardest part for me was not having specific assignments that start and end at a certain time. It's a very different kind of pressure."
After she graduated from MU in 2010, Parsons enrolled at DePaul University in Chicago to obtain her master's degree. Her first job after receiving her master's degree was as an assistant account executive for Social@Ogilvy. The Social@Ogilvy team is the social media brainstorming and creative team of advertising agency Ogilvy and Mather.
In her role at Social@Ogilvy, Susan focused primarily on content planning and writing, community management for brands' social pages, as well as identifying social-savvy influencers and journalists for brand campaigns and partnerships. Susan greatly enjoyed working on social media strategy with the great minds on the creative team during her time at Ogilvy. She left the agency in early 2015 for her current position at Zocalo Group.
Regardless of the title, agency or client, Susan's goal at the end of each workday remains simple – to make sure she is doing the best work she can for her clients, while learning something new each day. Susan's advice to current strategic communication students eager to begin their careers is simple.
"I think the most practical piece of advice I ever received about finding a job in this industry was to follow the trade publications and news around what agencies are winning new business for the coming year," Susan says. "Those are the best agencies to work at and the ones who will be looking to hire you. And above all, be open-minded and don't be afraid to network."
Updated: January 7, 2020
Related Stories