Career Center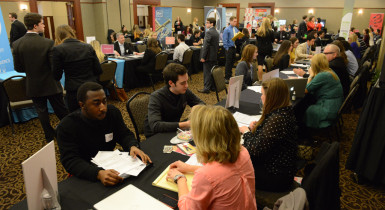 Journalism Career Services
The School of Journalism prides itself in making sure our students are career-ready upon graduation and offers a variety of resources to our students and alumni.
Current Students
Students are advised by our Journalism Peer Career Specialists on a wide range of career development topics, including resumes, interviews, conducting a job search, networking and selecting references. Students can connect with prospective employers through on-campus interviews and career fairs. Internship and job postings are available online at HireMizzouTigers.com.
Alumni
Alumni have access to online job postings through the University of Missouri career site, HireMizzouTigers.com, as well as through the Mizzou Alumni Association network.
Employers
Employers have access to a workforce that is ready to work from day one. The real-media experience gained through the Missouri Method equips our students and alumni with the knowledge and skills needed in today's environment.
Career fairs, professional development events and networking activities with alumni, potential employers and other industry experts are organized by the School's emphasis areas and student organizations. These are held both on and off campus. For more information, contact the Missouri School of Journalism.
Additional Resources
The MU Career Center offers a broad range of services and resources to assist students, parents, educators and employers. These include:
Cover letters and resumes
LinkedIn and other online networking tools
Interview preparation
Listings of internships and jobs
Looking for a Career with the School of Journalism?
Staff and faculty job listings at the University of Missouri are available at MU Employment Opportunities.