Tips for staying on track academically during COVID-19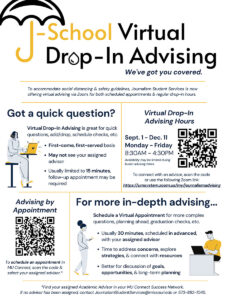 From the Journalism Advising office
Updated: Sept. 1, 2020.
School of Journalism advising services and appointments will be facilitated virtually for Fall 2020.
Advising appointments will be continue to be scheduled using MU Connect and will be held via Zoom.
Virtual drop-in advising for quick questions will be available Monday-Friday during limited hours via Zoom at https://umsystem.zoom.us/my/journalismadvising.
Limited face-to-face meetings may be available by request (following safety protocols) and by appointment only.
Published: March 20, 2020.
Missouri Journalism academic advisers are committed to providing our students with information and support for academic success, planning, early registration, and graduation. While the MU campus is utilizing a modified course-delivery method, students will have access to remote advising services.
Course registration for Summer and Fall semesters is open.
Students can identify their academic adviser in MU Connect by clicking into their success network. Students can find other journalism degree related information on the Journalism Undergraduate Advising Canvas page; the degree audit offers a real-time listing of how courses are satisfying degree requirements.
Looking for updates about your Spring course? Login to Canvas for more details from each of your course instructors.
Guidelines for Satisfactory/Unsatisfactory grading
Making the transition to online courses
Study Plan Consultants (SPCs) are holding open office hours for students via Zoom. SPCs are here to help students successfully navigate academics and their new, online educational environment.

SPCs are ready to help ensure students get answers to their questions, attend and benefit from their classes online, complete homework, prepare for exams, and access other resources as necessary.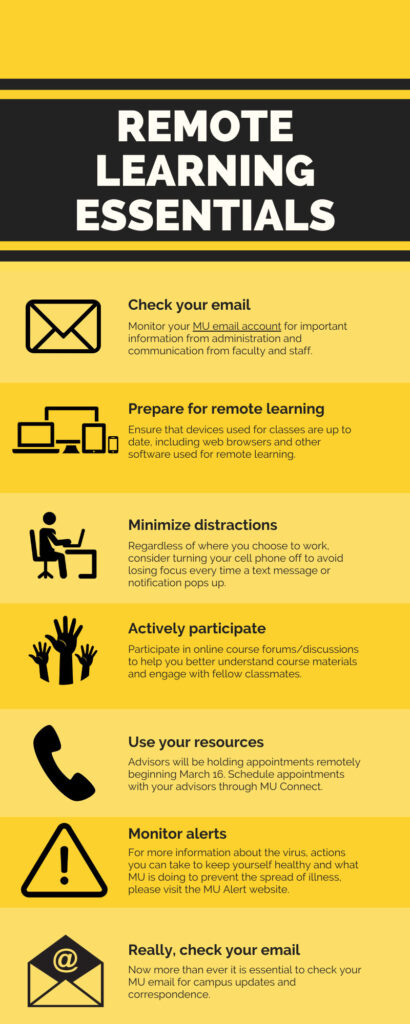 Residency
The Registrar's Office will be providing residency policy updates on their website.
International students
With the campus transition to online coursework, undergraduate international students must continue to maintain at least 12 credit hours of coursework.
Before making any decisions regarding courses or travel, F-1 students should communicate their plans to their ISSS adviser.
Students can check the International Center's COVID-19 updates for information specifically relating to their immigration status.

Please understand due to the fluid nature of this global emergency, U.S. immigration and travel guidance may be subject to change at any time.
Academic accommodations
The Disability Center remains open and is offering appointments via Zoom to students who need to schedule appointments.
If you have yet to establish accommodations with the office, we encourage you to complete the New Student Application.
Students who are already connected with the office should reach out to their access adviser.
Preparing for a job or internship search
The Career Center has transitioned all their services online. Students can receive career advisement online between 9 a.m. and 4 p.m. Monday-Friday. The Career Center is ready to assist you with all your career-related needs.
If you have additional questions or concerns, please email

ude.iruossim@reerac

or call (573) 882-6801.

Please note: As previously planned, the Career Center is closed for online consultations during Spring Break, March 23-27.