Jim Riek
News Anchor/Reporter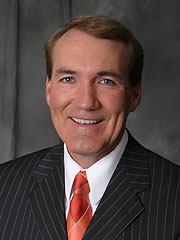 Download High-Resolution Photo
5550 Highway 63 South
Columbia, MO 65201
JIM RIEK is the 6 p.m. and 10 p.m. anchor at KOMU-TV, the only university-owned commercial television station in the United States that uses its newsroom as a working lab for students. He also serves as an adjunct faculty member for the Missouri School of Journalism.
Riek's career started in radio in Jefferson City, Mo., and he worked for as the sports anchor at the CBS affiliate in Jefferson City, Mo. In 1990, Riek became the anchor at KGBT in Harlingen, Texas. He returned to mid-Missouri and KOMU in 1997. Riek heads up KOMU's Target 8 investigative series in addition to his anchoring responsibilities.
Riek earned a bachelor's degree from Missouri Southern State College in Joplin. The Missouri Broadcasters Association and the Kansas City Press Club, among others, have recognized him with numerous awards for his broadcast excellence.
Updated: August 6, 2019