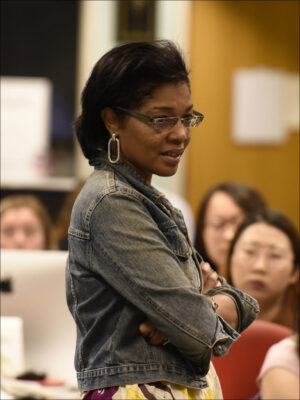 Download High-Resolution Photo
Executive Editor, Columbia Missourian and Missouri Community Newspaper Management Chair
309 Lee Hills Hall
Missouri School of Journalism
Columbia, MO 65211-1200
RUBY BAILEY earned a bachelor's degree from Wayne State University in 1989 and worked for the Flint Journal in Flint, Michigan, for three years before joining the Detroit News. In 1998 she joined the staff of the Detroit Free Press, where she worked for 16 years. There Bailey was a business and enterprise reporter and became a Washington correspondent, where she covered news of interest to Michigan readers. She also covered the 9/11 attacks and was embedded with the U.S. Navy in 2003 for three months covering Operation Iraqi Freedom. Bailey later became an assistant metro editor in Detroit focused on improving the newspaper's online edition.
In 2014 Bailey joined the Sacramento Bee, where she led a team of reporters focused on increasing and improving the Bee's digital content. She has experience covering and editing all aspects of local news, including business, entertainment and feature coverage.
Missouri Chair in Community Newspaper Management
The Missouri Chair in Community Newspaper Management was established in 2000. The Missouri Press Association endowed the chair to establish a link between the press association and the School of Journalism. The role allows the person to work with community newspapers across Missouri to help improve their coverage and operations.
Updated: February 27, 2020