Policies and Procedures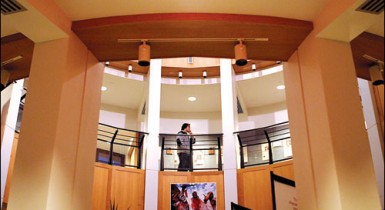 Policies and Procedures
The Missouri School of Journalism adheres to policies and procedures established by the University of Missouri, the MU Graduate School and those set by the Missouri School of Journalism and its faculties. The following are policies and procedures frequently accessed by faculty, staff and students. These are listed alphabetically by topic.
Academic honesty is fundamental to the activities and principles of a university. [More]
The Missouri School of Journalism has been continuously accredited by the Accrediting Council on Education in Journalism and Mass Communication since the process began in the late 1940s. [More]
Reasonable efforts will be made to accommodate your special needs. [More]
Appointment, Evaluation and Promotion of Journalism Faculty
Students may make audio or video recordings of course activity for personal use and review unless specifically prohibited by the faculty member in charge of the class. [More]
Classroom misconduct includes a wide variety of issues relating to disruption, abuse, damage and more. [More]
The School of Journalism has had a written diversity plan since 1986. In 2014, at the direction of the Faculty Policy Committee, the Faculty Multicultural Committee (renamed the Diversity and Inclusion Committee in 2016) undertook an assessment of the plan, progress toward goals and a review of priorities. This 2016 plan is the result of this review as well as a further review and revision in response to student activism on the University of Missouri campus in fall 2015. [More]
Diversity Statements, Missouri School of Journalism
The university community welcomes intellectual diversity and respects student rights. [More]
Sexual harassment or amorous relationships between members of the profession and any student for whom he or she has a professional responsibility should be avoided. [More]
Graduate students within the School of Journalism are bound by the policies of the School of Journalism, the MU Graduate School and the University of Missouri. [More]
Graduate school policies and procedures are kept current on the MU Graduate School website. [More]
The School of Journalism is committed to the highest standards of academic and professional ethics and expects its students to adhere to those standards. [More]
The Registrar publishes academic deadlines, policies and procedures. They also issue transcripts,  process course withdrawals, term withdrawals and late registration requests.
Students are excused for recognized religious holidays. [More]
The University of Missouri System is an Equal Opportunity/Affirmative Action institution and is nondiscriminatory relative to race, religion, color, national origin, sex, sexual orientation, age, disability or status as a Vietnam-era veteran. [More]
Students who plan to use human subjects in their research need to be aware that there are federal laws to protect those subjects. [More]
Each area of the university maintains its own set of policies and procedures. Here are two frequently accessed websites.