Academic Programs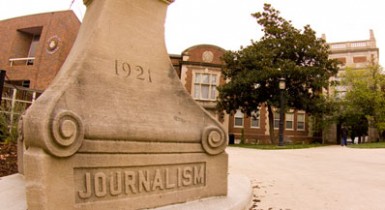 Our programs are more than classes.
Our curriculums have a heartbeat. They're a combination of academic excellence in the classroom, hands-on training with established professionals and a rich history of success. Each level breathes, grows and is ever-changing with new developments in the industry, in our country and in the world.
Undergraduate Programs
You'll be able to fully experience what gives our students an unmatched advantage the first day they step into the workplace. Read more about the curriculum from Dean Lynda Kraxberger and browse.
After presenting the first master's degree in journalism in 1921, our graduate programs continue to flourish. Read more about the curriculum and the degrees we offer.
Graduates of our doctoral program are some of the most prolific producers in the field, holding positions in teaching, administration and corporations around the world. Learn more about our curriculum and our accomplished advisers.
In addition to traditional undergraduate, graduate and doctoral programs, we offer online programs, journalism-law programs and opportunities.