Program Requirements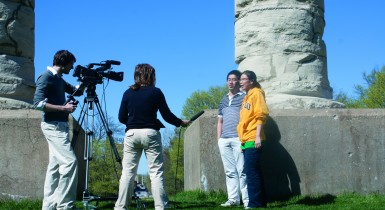 Program Requirements
An overview of the program requirements is provided in this section.
Students are expected to have a background in a foreign language and to develop a research tool. [More]
If students have one course of each quantitative and qualitative research methods in their graduate program, they can specialize in whichever method they choose. If students do not have both, they must take a course in the area that is lacking before taking courses in their specialty. [More]
Residency Requirement
To satisfy the residency requirement, a student must complete at least two nine-hour semesters or three six-hour semesters in an 18-month period at MU.
Becoming an excellent teacher is a critical component of doctoral education at Missouri. [More]
Scholastic Requirements
The School of Journalism GPA requirements are more stringent than those of the university: Doctoral students are required to maintain a minimum GPA of 3.5.
Degree Time Limit
According to university rules, students have eight years to complete the degree.
Satisfactory Academic Progress
Doctoral students' academic records will be reviewed regularly to ensure that satisfactory progress is being made.
For courses other than JOURN 9090 Research (dissertation), the grade of "I" (incomplete) may be recorded when the student's work is incomplete but otherwise worthy of credit. [More]
Oral Defense
All doctoral students are required to schedule an oral defense of their dissertation.
JOURN 9008 Readings
Typically, JOURN 9008 will be used for dissertation readings and students may take up to five credits of the course.
JOURN 9085 Problems
Students enrolled in J9085 are expected to work on a specific scholarly research problem that is not associated with the dissertation.