Your Junior and Senior Years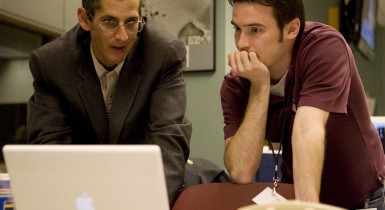 Your Junior and Senior Years
Today's media marketplace is much more complex and much more diverse. To prepare for this environment, Missouri journalism students can choose from an array of interest areas – more than 30 – designed to build expertise in areas in which journalism and strategic communication majors typically find jobs.
The expanded number of options allow students to take better advantage of the courses, hands-on opportunities in real-media labs and other resources available in their particular interest areas as well as create interdisciplinary and cross-platform learning opportunities tailored to their career goals.
To get ready for the more in-depth journalism and strategic communication study during the junior-senior years, students take 13 credits in journalism during their freshmen and sophomore years. This includes required courses in career exploration, principles of American journalism, cross-cultural journalism, news writing and fundamentals of multimedia journalism.
The outline of each interest area in this section includes a brief overview, required courses and suggested journalism electives. One option allows students to individually design a course of study if none of the existing interest areas meet their needs.
We invite you to explore your options and create your future in journalism and strategic communication.