International Journalism (Interdisciplinary)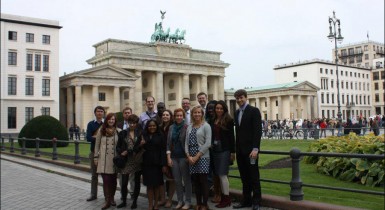 International Journalism (Interdisciplinary)
The next generation of journalism students must be equipped to work in a global environment. This interest area is designed to capitalize on Missouri's international reputation and its international resources by placing under one umbrella the school's existing Study Abroad opportunities, its internationally focused media and multimedia projects with global partners. Students in this interest area may take courses within any of the existing or prospective areas to complement their international interests. This degree is granted in the student's emphasis area of choice (Convergence Journalism, Photojournalism, Print and Digital News or Radio-TV Journalism) but is administered by the School's Global Programs office.
Students are required to earn a minimum of six credits from a School of Journalism Global Study Abroad program. Credits from the New York and Washington D.C. programs cannot be used to meet this requirement.
Students can refer to the Program Worksheets to learn more about the requirements for each area.
Suggested Journalism Electives (10)