The Journalism Ambassador Program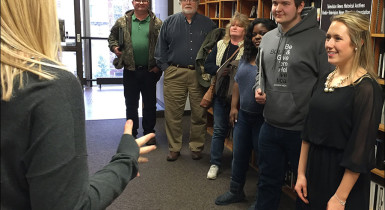 The Journalism Ambassador Program
Serving as a Journalism Ambassador might be one of the smartest moves you can make as a journalism student. Here's your chance to develop the confidence and skills vital to your future success while representing the Missouri School of Journalism to prospective students and their parents, to alumni and distinguished guests.
Eligibility
All journalism students (direct admits, pre-journalism, those enrolled in their interest area and graduate students) who have completed at least one semester at the University of Missouri are eligible to apply.
Applicants should be willing to work 1-2 tours per week and be available on some nights and weekends for special events.
Benefits
Paid hourly rate. Monies are placed into your student account and are paid at the end of the semester. If you don't owe student charges, you will receive the full amount of your stipend at that time.
Journalism Ambassador-branded clothing.
Opportunities to interact with School and MU leadership, prospective students, alumni and other distinguished guests.
Leadership development opportunities.
How to Apply
Applications are open in late fall for the spring semester and late spring for the summer semester. Please watch Canvas and/or your email for an announcement or you may email nicholsrkn@missouri.edu to ask when applications will be open.
Training
If selected, training will include the following activities:
Review of the Journalism Ambassador handbook;
Attend one MU presentation and campus tour to prospective students;
Observe and shadow current Journalism Ambassadors in three J-School presentations and tours to prospective students; offered 2:30 p.m. Monday through Friday;
Co-present with a current Journalism Ambassador in three J-School presentations and tours to prospective students;
Conduct solo tours evaluated by current ambassadors and faculty who oversee the program;
Observe and shadow one KOMU-TV presentation; offered 4:30-5:30 p.m. Monday through Friday;
Attend three monthly Journalism Ambassador meetings per semester;
Participate in other training activities as scheduled.
For More Information
For more information, contact Robin Nichols in the School's Office of Planning and Communications.