Financing Your Master's Degree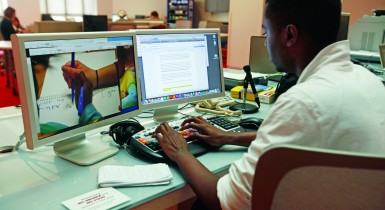 Financing Your Master's Degree
Nearly everyone is concerned about how to finance their graduate education. Here are a few opportunities and resources to inquire about at the same time you pursue admission to the program.
Federal Financial Aid
If you are interested in applying for a federal educational loan, please contact MU's Student Financial Aid Office at (573) 882-7506. You can also write to Financial Aid, 11 Jesse Hall, Columbia, MO 65211. You must be a U.S. citizen or permanent resident to be eligible for federal financial aid.
Graduate Assistantships
Both research and teaching assistantships are available on a competitive basis to graduate students who are able to contribute special skills to the mission and work of the school. Research assistants support faculty members in their research or creative projects, or sometimes in service activities. Teaching assistants typically perform teaching-related activities such as guest lecturing, writing and grading exams, grading papers, and meeting with students. Teaching assistants may also be involved in service activities.
International graduate students are not eligible for teaching assistantships during their first semester on campus. According to university policy and Missouri law, all graduate students who received elementary and secondary education in a country where English is not the official language must successfully pass a language screening (at a Level 3) and attend one semester on campus before receiving any type of teaching assignment.
Graduate assistants usually work 10 hours a week. Assistantships carry a full waiver of the resident and non-resident educational fees (tuition). The waiver does not include incidental fees, i.e. student health, student activity, information technology, journalism fee, and recreation facility fee. Tuition waivers cover only courses that are directly related to the plan of study.
Master's students can receive a maximum of four semesters of financial support. Support is considered any financial assistance for which a student receives a tuition waiver, and includes scholarships, fellowships and assistantships.
Acceptance of a graduate teaching or research assistantship in the School of Journalism is contingent upon eligibility. Eligibility requirements include:
maintaining a cumulative graduate GPA of 3.25;
enrolled full-time (9 to 12 credit hours);
received a satisfactory evaluation for previous semester(s) of assistantship(s);
not having exceeded four semesters of support;
for teaching assistantships, participation in the Orientation for New International Teaching Assistants (for international students) or the Graduate Assistant Teaching Orientation (for domestic students); both are held just prior to the start of the semester. International students must also have passed a language screening (SPEAK test) at a level 3 and have attended one semester on the MU campus.
It is the policy of the Missouri School of Journalism that students who hold an assistantship must be present on campus and in residence during the duration of their assistantship assignment. Assistantships cannot be completed "long-distance." Students who are not on campus and in residence, including students in the online MA program, are ineligible to hold an assistantship.
Fellowships
MU's Graduate School offers a number of fellowships to first-time graduate students, including the D.R. Francis Fellowships and the William Gregory Fellowships as well as the Marshall Fellowships for underrepresented minorities. These are campus-wide awards which are highly competitive and require a high grade point average and GRE scores. The Journalism Graduate Studies Center will select qualified candidates and send their nominations to the Graduate School. For more information on the fellowship programs, please contact the MU Graduate School.