Strategic Planning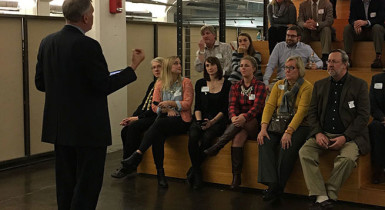 Missouri School of Journalism Strategic Planning
Introduction
On April 5, 2016, Dean David Kurpius announced the formation of a new Strategic Planning Leadership Team at the Missouri School of Journalism. The group, made up of faculty, staff, a student and alumni, held its kickoff meeting on April 13, 2016.
The formation of the leadership team was the next step in the overall strategic planning process Kurpius announced when he assumed the deanship on July 1, 2015. During his first months on the job, Kurpius held numerous listening sessions at the School, around the country and internationally.
"Over and over, I heard that the Missouri School of Journalism plays a very important role in journalism and strategic communication around the world," Kurpius said. "Our strategic planning process will address the all-important question of how we will take advantage of our strengths and other opportunities in the coming years."
Planning Process Phases and Timeline
The roughly eight-month strategic planning process will allow the School to launch its new plan in January 2017.
Phase

Timing

1: Mobilize.
Plan and organize for the project.
March and April 2016
2: Understand.
Collect internal and external data about our planning context.
May through July 2016
3: Reflect.
Explore implications and opportunities from research findings.
May through August 2016
4: Create.
Create a vision and strategic priorities.
August 2016
5: Agree.
Explore alternative priorities and seek consensus on key priorities.
August and September 2016
6: Document.
Develop and document core strategies, key initiatives, metrics and tactical work plans.
September through November 2016
7: Communicate.
Introduce the plan to stakeholders.
December 2016
8: Implement.
Execute plans, measure results and evaluate outcomes.
2017
Strategic Planning Leadership Team Purpose and Members
The purpose of the Strategic Planning Leadership Team is to help facilitate an effective strategic planning process that will engage Missouri School of Journalism stakeholders in conversations about the School's mission, vision and strategic priorities. We aim to develop a strategic plan that:
has broad ownership;
has carefully considered the J-School's current realities and operating context;
articulates a vision that is energizing for all stakeholders;
outlines strategic priorities and key initiatives and defines measurable outcomes.
Members of the Strategic Planning Leadership Team are:
James Bender: senior, Radio-Television Reporting and Anchoring, from Chicago
Kia Breaux: Director of Regional Media for The Associated Press in Missouri, Kansas and Iowa; Alumna
Jamie Flink: Assistant Professor, Strategic Communication; Account Management and Planning, Mojo Ad
Mark Hinojosa: Associate Professor, Convergence Journalism
Laura Johnston: Associate Professor, Print and Digital News; Senior News Editor for the Columbia Missourian; Alumna
David Kurpius: Dean; Professor, Radio-Television Journalism
Pete Ozias: Director of Undergraduate Advising
Jennifer Rowe: Associate Professor and Faculty Chair, Magazine Journalism; Alumna
Dave Senay: former President and CEO, current Senior Counsel, FleishmanHillard Inc.
Yong Volz: Associate Professor, Journalism Studies
Stacey Woelfel: Associate Professor, Radio-Television Journalism; Director, Jonathan B. Murray Center for Documentary Journalism, Alumnus
The Strategic Planning Leadership Team will work with Sandra Herron of MiddlEdge Inc. in Indianapolis. Herron will help guide the process and assist in designing and facilitating meetings and conversations. In her more than 30 years of experience in strategic planning and organization and team development, Herrron has worked in a broad range of industries and with organization of all types and sizes, ranging from AT&T to the U.S. Department of Justice Anti-Terrorism Advisory Council and from Big Ten universities to small liberal arts colleges.
How to Prepare and Participate in the Process
In the coming months, there will be many opportunities for stakeholders to offer input via group conversations and Web surveys. As you prepare to participate in this process, we encourage you to consider the following questions:
What are the J-School's strengths and assets? What makes the School unique and special?
How do you see the J-School continuing to lead the field? What might this School look like in 5-7-10 years?
How will we bridge the gap between where we are and where we desire to be? What are the critical issues we need to address as we move into the future?
Starting in June, there will be a strategic planning section in the monthly e-newsletter to keep you updated on the process and opportunities to be involved. If you would like to receive these in your Inbox, send your name and email address to journalism@missouri.edu. Members of the Strategic Planning Leadership Team also will share meeting summaries and updates via blog posts.
Leadership Team Updates
Missouri School of Journalism Strategic Plan
March 9, 2017:
Strategic Plan: "First, Best, Next"
Feb. 3, 2017:
Missouri Method at Heart of Strategic Plan
By Pete Ozias
Director of Undergraduate Advising, Missouri School of Journalism
Jan. 12, 2017:
J-School Strategic Plan to Be Unveiled Jan. 27
By Kia Breaux, BJ '96
Midwest Regional Director, Associated Press

Nov. 16, 2016:
NEXT Planning Team Update
By Dave Senay, FleishmanHillard
Sept. 7, 2016:
Coming Together
By Jennifer Rowe
July 29, 2016:
Moving Toward Priority-Setting
By Dave Senay, FleishmanHillard
June 9, 2016:
Strength and Hope
By Laura Johnston
May 5, 2016:
Strategic Planning Leadership Team Update
By Stacey Woelfel