Transfer Credit for Non-MU Courses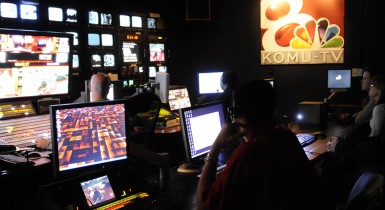 Transfer Credit for Non-MU Courses
The Office of Undergraduate Admissions, 230 Jesse Hall, determines transfer equivalencies for the University, including the Missouri School of Journalism.
Approval for Transfer Credit
If you wish to take courses at another school, you should get approval in advance to ensure that the credit will transfer and will apply to your degree requirements. You should get approval from the Office of Undergraduate Admissions before you visit with your academic adviser.
Acknowledgement of Transfer Credit
The Office of Undergraduate Admissions determines transfer equivalencies for all transfer courses. Students' Transfer Equivalency Report is available in their Student Center in their myZou account. The School of Journalism accepts transfer credit according to the transfer credit equivalency report.
How Transfer Credits Count
All courses, regardless of number, taken at junior colleges, transfer as lower-division credit. In general, the J-School cannot accept courses that are considered "professional skills" courses. This includes courses such as engineering, agriculture, social work or education. The School also cannot accept the following:
Journalism or mass communications courses offered anywhere other than the Missouri School of Journalism.
Typing or practical arts/vocational technical education courses.
Basic physical education.
Basic military science (unless enrolled in ROTC).
Studio/performance music courses; these are considered applied courses (see above). No more than three hours will be accepted.
Number of Credits that Can Transfer
Unless otherwise specified by a formal articulation agreement, which allows additional hours, up to 64 credits may be transferred from two-year colleges at any time before graduation.
Residency Restrictions on Transfer Credit
Students must complete 30 of their last 36 hours in MU coursework.
Satisfactory/Unsatisfactory Grading System
No required course or courses in a required area may be taken on a Satisfactory/Unsatisfactory basis either before or after admission to the School of Journalism. Only elective, non-journalism courses may be taken S/U and only one per semester.
Transfer Credit from Other Missouri Schools
Transfer students from other accredited schools and colleges in Missouri should check the website of the Office of Undergraduate Admissions to see how coursework will transfer to MU. Students attending schools out of Missouri are welcome to have their course work evaluated by the Admissions office. Transfer Course Approval Form needs to be e-mailed to transfer2mu@missouri.edu once filled out.
Additional Resources:
Office of Undergraduate Admissions
Address: 230 Jesse Hall