Apply for an Interest Area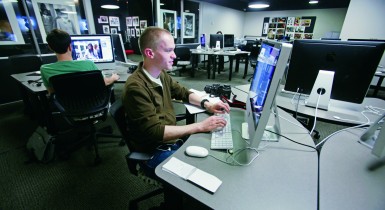 Apply for an Interest Area
The School offers more than 30 interest areas in the fields of journalism and strategic communication to undergraduates. Students generally apply to the area of their choice in the first semester of the sophomore year.
Application Requirements
Students who wish to apply for admission to a journalism interest area are required to meet all of the following requirements:
Will have completed 60 credits before beginning interest area courses.
Will have completed all pre-interest area course requirements. Online self-paced courses must be completed prior to admission to an interest area.
Must have a minimum UM System cumulative GPA of 2.65 to apply for an interest area. A GPA of 3.0 or higher is required for automatic acceptance.
Students whose primary language is not English are required to meet specific criteria before seeking enrollment in any journalism course and program admission.
How to Apply
Directly admitted and pre-journalism students should complete the following one or two semesters before they will begin their interest area studies.
Submit the online application by the deadline. Students can submit the application up to two weeks prior to the deadline. The application will be provided here during the two-week period.

Sept. 1 for admission in the spring semester.
Nov. 15 for admission in the summer or fall semester.

Students enrolled in courses at another college are required to submit proof of enrollment to the School of Journalism Advising Office. Proof of enrollment can be a course schedule or unofficial transcript.
The School of Journalism does not guarantee first choice of interest area. It may be necessary at times to limit enrollment in high demand areas.
The documentary journalism interest area accepts a cohort of students for the fall semester only. Students applying to this interest area should only apply during the Nov. 15 deadline.
Appeals Process
Students denied admission to the interest area can appeal the decision. The Journalism Undergraduate Admissions Committee extensively reviews individual applications for admission from students in this category. Criteria used in evaluating these applications include the following:
A letter of appeal including extenuating circumstances that impacted the student's GPA, list of journalism-related activities, description of experience in the field and statement of purpose for pursuing the Bachelor of Journalism degree.
1-2 letters of recommendation. Recommendations from journalism faculty or journalism industry professionals are preferred.
3-4 samples of journalism-related work.