Missouri School of Journalism graduate helping journalists cope with trauma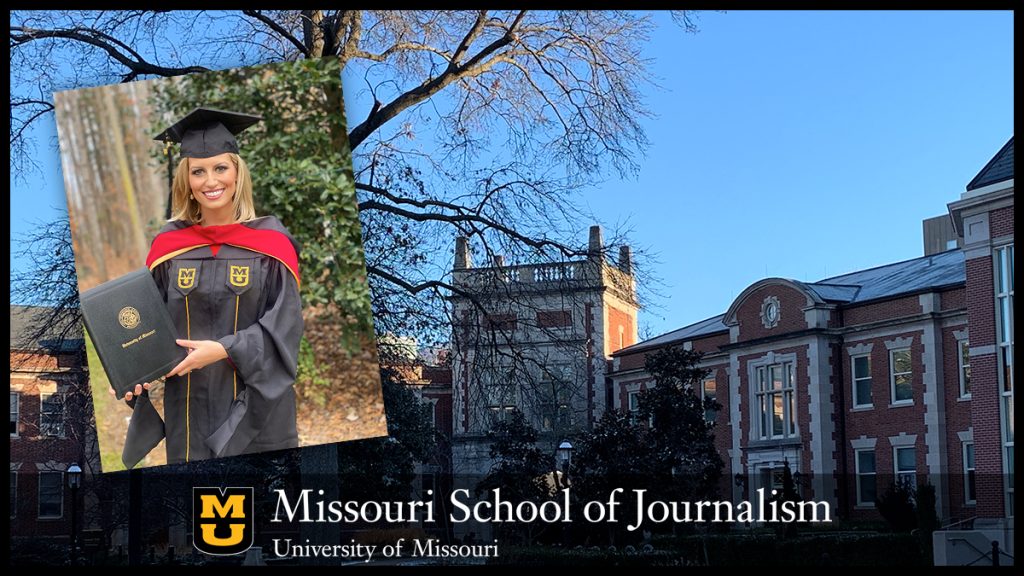 Columbia, Mo. (Jan. 14, 2022) — In April 2013, less than five years after she had earned her bachelor's degree from the Missouri School of Journalism, Sarah French was on the ground covering the Boston Marathon bombing. As the aftermath of the tragedy unfolded, the traumatic experience of covering the story had her questioning whether she should leave the news industry entirely.
Then, a year later, a colleague who had also covered the bombing — as well as the Sandy Hook shootings — died of suicide. It was the second time French had lost a friend and colleague to violence in only a few years — in 2009, co-worker Alice Morrin was murdered by an estranged husband. For French, these events meant the end of the illusion that the news was about things that happened to other people, experienced from the safe distance of a television.
"The news became real to me," said French, now an anchor at WCNC-TV, an NBC station in Charlotte, North Carolina. "I realized every story is personal to someone. It is someone's mom, dad, brother, sister, or best friend. After this, every story began to build on one another. I was not talking about it. I was not processing it. I was holding everything inside, putting on a brave face and moving on to the next story, which all seemed to come to a head with the bombing."
French's experiences drove her to push for greater recognition of the traumas journalists face in covering violent and disturbing scenes, whether they're on the ground in a disaster zone or an editor going through pages upon pages of tragic stories and disturbing photographs. Rather than leaving the news industry, she returning to the School of Journalism, where she earned her master's degree in December and made the topic the subject of her thesis. She interviewed nearly 100 journalists for the project to determine what resources and training newsrooms could provide to best support their reporters.
"To hear everyone opening up to me was really extraordinary," French said. "So many said they struggled but kept it to themselves, and their newsrooms weren't doing anything about it."
Over and over again, respondents recounted the difficulties of covering — in the words of one journalist — "the worst days of people's lives." French's interviews and research pointed to a widespread problem, but also indicated a number of solutions that could be applied at nearly every step of a reporter's career, from training students on how to handle traumatic events at the college level to newsrooms offering free therapy services.
Still, French noted, it can be difficult for reporters to admit they are struggling. Some feel that therapists simply don't understand the news industry and can't relate to their experiences. Others have found that COVID-19 has taken away the critical support that face-to-face communication with their colleagues can provide.
"Being in a newsroom, and being able to talk to each other, is like therapy," said French, who, before covering the Boston Marathon bombings, had also covered the devastating impacts of the 2010 earthquake in Haiti. "COVID-19 took that away."
Fostering a culture of support
To help journalists feel more willing to share their struggles and seek support, French is determined to change the culture in newsrooms to ensure that post-traumatic stress is not swept under the rug or viewed as a sign of weakness. In the spirit of the School's Missouri Method, which stresses real-world experiences and applications, she put together a website for fellow journalists summarizing her findings in the forms of tips and guides. The site includes recommendations on counseling resources, tips to help managers notice and assist troubled employees, and information about peer-support programs.
These resources are distilled from her 309-page thesis, which drew on the expertise and first-hand experiences of other current and former journalists working to change the industry.
One such journalist was Heather Forbes, a retired former manager at the Australian Broadcasting Association who developed a program in 2006 that trains peer supporters to help those who, for one reason or another, are not ready or willing to seek help from a professional therapist. Known as the Trauma Awareness Program, it allows journalists to connect with a peer day or night to talk through their trauma. For now, no such program exists in the United States, though French hopes that will change as the topic receives more attention.
Another ally in her cause is Al Tompkins of the Poynter Institute. A veteran journalist, Tompkins now conducts trainings around the world to help news organizations support their people. For Tompkins, this kind of training is as vital as teaching journalistic ethics.
"It's sort of like saying, well, when do you learn about ethics?," Tompkins said in his interview with French. "When do you not learn about ethics? Right? It should be a part of your everyday conversation to say, look, let's pay attention to what's going on here."
Along with these and other allies, French is part of a movement not only to provide journalists with the help they need to deal with upsetting experiences on the job, but to bring greater awareness to the struggles involved in keeping the public informed about tragic and disturbing events.
"Reporters are first responders and last responders; they are there for the five o'clock story about the fire, they have to talk to traumatized people about the loved ones lost, and then they're there for the funerals," French said. "We need to be there for each other and make sure that we all have the support and safety nets that we need."
Updated: January 20, 2022
Related Stories
Expand All
Collapse All
---