Mission and Strategic Plan
Media technology has changed radically since the School was founded in 1908, but the need for quality journalism has never been greater.
Mission, Vision and Values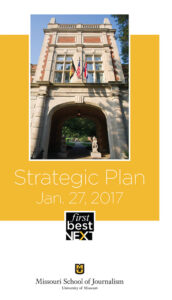 Our Mission
We educate preeminent journalists, strategic communication professionals and scholars using our world-renowned Missouri Method to seek and communicate truth for the benefit of democratic society, setting the standard for quality journalism and strategic communication worldwide.
Our Vision
We will shape the next generations of our professions with the Missouri Method and world-class research, scholarship and innovation to prepare journalists and strategic communication professionals for exemplary public service and leadership.
Our Values
We, the students, staff, faculty and alumni of the Missouri School of Journalism, in the spirit of diversity and inclusion, will uphold the values of the University of Missouri:
Discovery
Excellence
Respect
Responsibility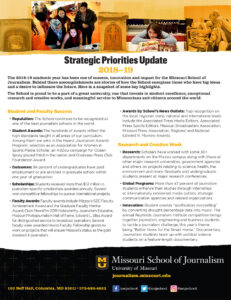 We also pledge to live by the following journalistic and strategic communication values, to reflect them in our institutional policies and practices, and to model them as we work collaboratively to inform and engage local and global communities:
Accountability
Courage
Public Service
Truth
Goals and Strategies
Articulate, execute and promote the Missouri Method to prepare graduates for evolving professions.
Strategy 1.1
Create a world-class, forward-thinking teaching lab that fosters collaboration among newsrooms and agencies.
Strategy 1.2
Embody and execute the Missouri Method through an ongoing, holistic approach to curriculum development, teaching, experiential learning and continuous evaluation and improvement.
Strategy 1.3
Articulate afresh the professional values and core competencies that serve as learning outcomes for the curriculum.
Strategy 1.4
Broadly promote what Missouri School of Journalism graduates are taught to know, value and do to serve specific audiences and society at large.
Foster innovation and high-impact research to advance the professions of journalism and strategic communication.
Strategy 2.1
Expand cross-disciplinary collaboration and research partnerships within the School of Journalism and our global offices and with the University of Missouri at large.
Strategy 2.2
Connect alumni, industry professionals, communities and other external partners in strategic ways to students, staff, faculty and one another to advance learning, professional development and innovation.
Strategy 2.3
Explore and test innovative products, services and revenue streams that align with the School's mission, vision, values and goals.
Implement a shared governance model that aligns structure, processes and resources in support of the School's strategic priorities.
Strategy 3.1
Engage everyone in the Missouri School of Journalism family – including alumni and donors – to strengthen a culture of one school and advance the School's mission, vision and goals.
Strategy 3.2
Develop a shared governance model and supporting processes to promote collaboration, transparency and efficiency.
Strategy 3.3
Recruit, develop and retain exceptional and diverse faculty, staff and students.