KOMU TV-8
The only university-owned commercial television station and major network affiliate in the United States that uses its newsroom as a working lab for students.
Serving as a working laboratory for broadcast journalism students at the MU Journalism School, KOMU-TV 8, the area's NBC affiliate, is the only university-owned commercial major-network affiliate in the United States that serves both an academic and a commercial mission.
Recognized throughout the journalism profession as the premiere training ground for television reporters and producers, KOMU's newsroom creates a real-life lab experience for students attending the J-School.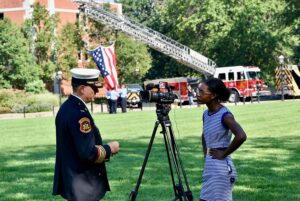 Students can cover major news, politics, sports and entertainment as reporters, producers and anchors for audiences on-air, on-line and via social platforms. KOMU reaches 40,000 homes in 15 mid-Missouri counties.
The news station also works to bring mid-Missouri the best news coverage and has received numerous awards for its on-air news coverage. Journalism students working at KOMU use state-of-the-art equipment, a new all-digital control room and multiple live-remote mobile units.
KOMU's operations and investments in broadcast technology are funded entirely by advertising and retransmission revenues. The station receives no funding from the university or state.
FAQs about student involvement producing shows at KOMU-TV 8
Q: How often does a student produce a show (every day, weekly, etc.)?
A: MU J-School students produce shows for a total of 8 hours of news per day. This includes:
M-F: 2.5 hour morning show and 

30 minutes at noon, 5p.m., 6 p.m., 9 p.m. and 10 p.m. 

Saturday: 2 hour morning show and 30 minutes at 6 p.m., 9 p.m. and 10 p.m.
Sunday: 1 hour morning show and 30 minutes at 5 p.m., 9 p.m. and 10 p.m.
Q: What kind of shows do students produce and report (news, variety, sports, etc.)?
A: Students in the producing class produce 2-3 shows per week.  It depends on how many credits they are signed up for. Other students might not be line producing … but they might be creating content for the web.  Our reporters work 1-2 shifts per week depending on assignments.
Q: Is the class only for majors or can non-majors sign up for the class?
A: Students must complete our required reporting classes before they can take the producing course – however we've had some exceptions.
Q: Where is the show broadcasted (online only, local channel, other)?
A: All our student work is broadcast on the NBC in Columbia/Jefferson City market. Additionally, every show is live streamed at www.komu.com and it is now available on Roku.