The ACEJMC unanimously voted to reaccredit the Missouri School of Journalism in 2016. The School was found to be in compliance with all nine standards at both the undergraduate and graduate levels. The site-visit team was generous in its praise of both Missouri faculty and students and their interactions inside and outside classrooms.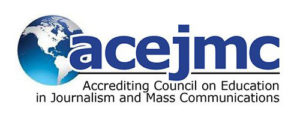 "Both at the graduate and undergraduate levels and across all sequences," the team wrote in its report, "students report that their expectations are exceeded regularly."
A summary statement in the team's report noted: "For more than a century, the Missouri School of Journalism has been a global leader in journalism education. While it certainly has tradition, the School also has a forward-thinking mindset that emerges in its new Strategic Plan. The School is effectively managed, and a good working relationship is evident among faculty, students and administrators."
The public accountability information provided in this section is updated on an annual basis. If you have any questions, please contact the Missouri School of Journalism.