Resources for High School Teachers
Missouri School of Journalism high school journalism project: Free, online teaching resources for scholastic journalism teachers.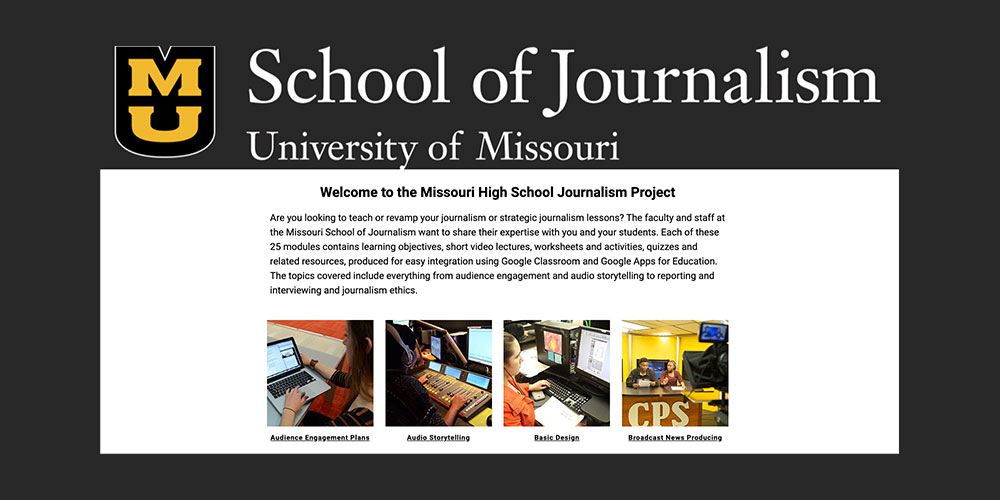 Here is a no-cost, stress-free way to refresh your curriculum for lessons dealing with journalism, communication arts and related topics. This 25-module curriculum was designed and developed by the faculty of the Missouri School of Journalism.
Choose from 25 modules to help you teach skills used in journalism, yearbook and related topics.
Audience engagement
Audio storytelling
Basic design
Broadcast news producing
Broadcast writing
Cross cultural journalism
Editing and headlines
Features
Infographics
Investigative and data journalism
Journalism ethics
Law and the First Amendment
Multimedia

News writing
Opinion and reviewing
Photography and cutlines
Reporting and interviewing
Research
Social media and digital tools
Sports writing
Story ideas
Videography
Web design
What is news?
Writing for social media
---
Individual module landing pages set you up with an overview of the lesson's activities:
Complete lesson plan
"Do" activities
Worksheets, examples and answer keys to support activities
Readings and resources
Various types of formative assessment
A summative assessment at the end of each lesson in the form of a 10-question multiple choice quiz with feedback on correct and incorrect answers
The plans also state the learning objectives to which those activities and readings are aligned and sets the expectations.
Questions?
Please contact Professor Amy Simons at simonsa@missouri.edu