Dean's Office
David D. Kurpius, Dean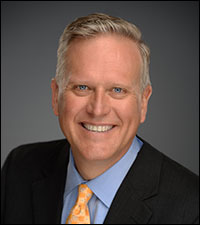 David D. Kurpius was named dean of the School of Journalism effective July 1, 2015. He combines almost two decades of higher education administration, teaching and research with more than 10 years of professional television news and production expertise.
Kurpius has published studies in more than 20 peer-reviewed journals and books on subjects ranging from civic journalism to local television news. His research topics have included TV news and political campaigns, racism in local news, and civic journalism in which the media not only informs the public, but also works towards engaging citizens and creating pubic dialogue.
In his role as dean, Kurpius provides leadership and helps shape the future of journalism and strategic communication through the School's missions of education, research and engagement. He leads the School in development of strategic and innovative interdisciplinary programs, industry outreach, alumni engagement and fundraising, effective recruitment nationally and internationally, and promotion of best practices in traditional and emerging forms of journalism and strategic communication.