Columbia Missourian
The Missourian is a digital-first publication that was founded in 1908 as a community newspaper. It regularly beats out the St. Louis Post-Dispatch, Kansas City Star and Columbia Tribune for state journalism awards.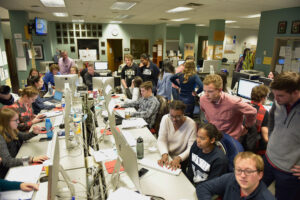 Many of our alumni now write for leading newspapers, magazines and websites. Others are working as photographers, designers, graphic artists, copy editors, website developers, etc.
As journalism has changed, so has the Missourian. Although its print edition publishes five days a week, the Missourian family of publications is a 24/7 operation.
Its family of publications includes:
ColumbiaMissourian.com is a news site that's updated constantly and includes video, audio and other multimedia as well as reader-friendly interactive data. Stories written by student reporters are published first online. Students write blog posts on any of eight sites featuring everything from City Council tidbits to Tigers football news.
From Readers: MyMissourian.com was the second citizen journalism website in the country. From Readers is the evolution of the ground-breaking site: It puts reader submissions in the same mix of news and discussion as other staff-created and Associated Press offerings on columbiamissourian.com. From Readers is a place where readers become the writers while our student-journalists serve as editors and guides. The best pieces are published in the daily print edition of the Missourian in a unique collaboration between traditional print and digital platforms.
The new digital tools of our age allow students to work with a completely new model. Digital is the language of the present, and the Missourian's mission is to prepare tomorrow's leaders in journalism regardless of platform.