Missouri School of Journalism welcomes Afghan journalist to campus with fellowship from Lee Hills Chair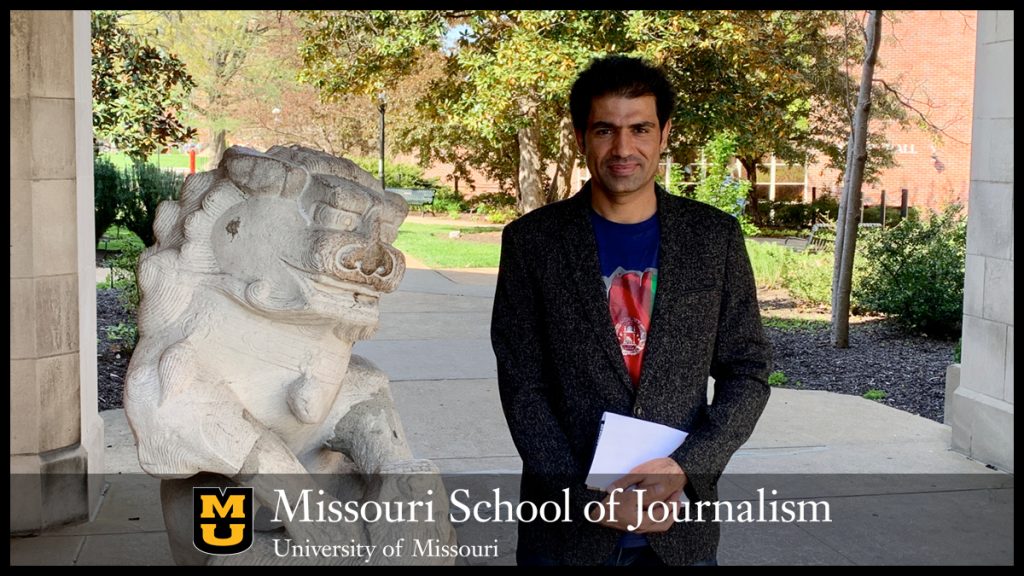 Columbia, Mo. (August 23, 2022) — Zabihullah Ghazi, an award-winning Afghan journalist who has produced stories about his home country for Voice of America (VOA) and the New York Times for more than half a decade, has come to Columbia, Missouri, to study at the Missouri School of Journalism.
In the wake of a Taliban crackdown on press freedom and civil rights after the U.S. military's exit from the country last year, Ghazi — who has a master's degree in Pashto-language literature from Afghanistan's Nangarhar University — hopes to earn a degree in journalism from Mizzou to help him continue to tell stories about the country and its people, both those still in Afghanistan and those seeking refuge in the U.S.
It might seem odd for an accomplished journalist to go back to school — after all, the Afghanistan Journalists Center, a press freedom association, named him journalist of the year last year — but like many journalists in the country, where only one university provides a master's degree in journalism, his credentials don't match his experience and aspirations.
"I want to teach journalism because I have a lot of experience," Ghazi said. "When I go back to Afghanistan, I want to teach at one of the universities."
He also wants to use this opportunity to expand his knowledge of the trade beyond his own practical experience.
"Afghanistan reporting is very different; I have a lot of experience with that, but I want to be part of the international media," he said. "When I was a child, I heard BBC and VOA. I have reported from outside [that world], and now I want to work from inside."
Ghazi's initial year at the School is sponsored by a fellowship from Professor Kathy Kiely's endowed chair, the Lee Hills Chair in Free-Press Studies. Kiely, who also led a team to Niger in January to teach local journalists how to spot disinformation and share storytelling strategies, believes the fellowship will be educational both for Ghazi and for other students at the School.
"I want to teach journalism because I have a lot of experience," Ghazi said. "When I go back to Afghanistan, I want to teach at one of the universities."
"This is an opportunity for Ghazi to grow as a journalist, and it's also a chance for our students to learn from a visual journalist who knows what it's like to work in a conflict zone," Kiely said. "It's a way for them to learn that when you want to report overseas but you don't know the culture, you need a collaborator."
For Kiely, the fellowship is an ideal expression of the intent behind the Lee Hills Chair endowed in 1995 by Lee Hills, who attended the School of Journalism between 1927-1929 and enjoyed a long career in the newspaper industry. Hills desired for the chair to promote knowledge of the importance of free expression among ordinary citizens, saying in 1995, "The emphasis on good journalism should be on serving citizens, not on serving newspaper or TV. People have to know what is going on if they want to govern themselves."
In Ghazi, a journalist committed to promoting professional, independent journalism in — and about — a country that has suffered suppression of the free press, Kiely has found an embodiment of that ideal.
"I feel like Lee Hills is smiling," she said of the chair's benefactor and namesake of Lee Hills Hall, who died in 2000.
Ghazi isn't just studying at the School during his time in Columbia; he's taken the opportunity to visit friends from Afghanistan who have settled in Missouri, including his former neighbor, who now lives in St. Louis. And before the semester starts this month, he is on assignment for the New York Times in San Antonio, Texas, where he will cover the disappearance of the daughter of an Afghan refugee.
"That family came to U.S. to be safe," Ghazi said. "America is considered a safe country, but their daughter disappeared. In Afghanistan, some people question why they came here. I want to write a story about that family because it's such a hard situation."
It's the kind of story that brought him to the attention of Kiely and the New York Times in the first place; the kind of story that puts names and faces to the experiences of a people; the kind of story that, as Hills knew, is difficult to tell without a free press.
Updated: August 23, 2022