Alumnus Jon Franko carves his own path to success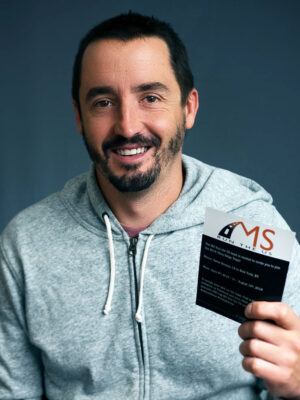 Degree(s): BJ '05
Whereabouts: United States, St. Louis, Missouri
By Jerry Duggan
(Feb. 25, 2020) — Jon Franko, BJ '05, may have grown up on the Illinois side of the Mississippi River, but he's always been a Mizzou guy. Franko, whose grandfather, Keith Parker, played fullback for MU under esteemed football coach Don Faurot, bled black and gold when his friends bled orange and blue. He didn't care. He has always wanted to do his own thing.
In that spirit, and with it in the back of his mind that his dad was successful as an entrepreneur, Franko decided to start his own business with co-founder Joe Sullivan. In July 2006, barely out of college for a year, Franko and Sullivan launched Gorilla 76, a marketing agency located in the Central West End in St. Louis. It was an almost immediate success.
"The first three months were difficult for us, just because it takes a little time to get a business off the ground and running," he said. "It also just felt weird being our own bosses and having to learn how to manage our time." He also had to very quickly learn the importance of cash flow in terms of a running business, but for a startup, they were attracting clients with ease.
Despite its fast start, business has remained stable and the agency has continued to grow over the last decade. Gorilla 76 is focused on business-to-business (B2B) industrial marketing. In contrast with traditional marketing, in which items are sold directly to the consumer, B2B marketing involves facilitating the sale of goods between one business and another. As the firm's list of clients grew, so did the accolades for Franko's work. In 2010, he was named to the St. Louis Business Journal's "30 Under 30" class, and was also dubbed one of St. Louis' "Top Young Entrepreneurs" by St. Louis Small Business Monthly.
While Franko has experienced great success with Gorilla 76, he just sees himself as a normal guy who is determined to carve his own path to success. In fact, while he is honored by the recognition he's received, his greatest joy comes from seeing what he's built – a wholesome, successful business with a happy staff. "What I'm actually most proud of is not the bottom line, but that I've created a place where people can make a living doing something they love," he said. "High marks on employee satisfaction surveys, and co-workers settling down and having families…that's what really excites me about my work."
Amidst all of his success, Franko has had to deal with setbacks as well. In January 2016, Franko was diagnosed with multiple sclerosis, a potentially-crippling disease in which one's own immune system eats away at the protective covering of nerves.
Much in line with his attitude in the business world, Franko decided the best approach to coping with this life-changing diagnosis was to take it in stride and proactively work to combat its effects. "I'm competing with this disease, and I'm here to kick its ___," he said with swagger. "Everyone has their hardships in life, and this is mine. I can either sit back and let the disease destroy me or I can fight back against it."
Franko is on the Board of Trustees for the Gateway Area Chapter of the National Multiple Sclerosis Society, and he is also part of Bike MS and MS Run the US. In July 2019, he ran across the state of Ohio (174 miles) in six days as part of a nationwide relay to raise money for research related to MS. Since 2016, he's raised more than $70,000 in the fight against MS. He's run more than 4,000 miles along the way.
Reflecting on where he is today, Franko considers himself just a regular kid from a regular middle class family in Granite City, Illinois, who knew early on he wanted to be a Tiger and be in what he calls "the best college town in America."
He arrived on campus in Fall 2001 feeling he was a talented and creative writer. As he progressed through his early classes, he found that he still liked traditional journalism, but there was a creative itch in him that needed to be scratched. That led him to fall in love with copywriting and print advertising, because it allowed him to utilize his writing talent with a little more freedom of expression than a newsroom setting could provide.
Two copywriting internships and, following graduation in May 2005, a job as a copywriter for Moosylvania set him up with a career, but soon thereafter he felt like it was time to bet on himself.
"I really did feel like I knew best, even if I didn't in that case," he said. "I've always felt like I needed to be my own coach." With that in mind, he founded Gorilla 76, and the rest is history.
Updated: February 25, 2020