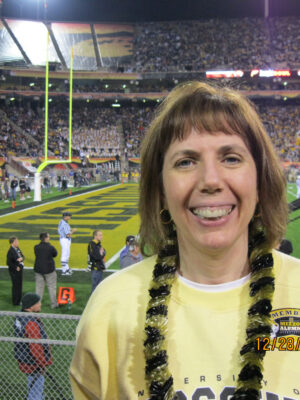 Degree(s): BJ '82 (Magazine)
Whereabouts: United States, Arizona, Phoenix
Why did you choose the Missouri School of Journalism?
I lived in Missouri, but regardless, it was the best journalism school. I wanted to do sports public relations.
How did you get your first job, and where do you work now?
I started out as a freelancer, covering high school sports for the Suburban Journals in St. Louis. I was later hired full time and eventually became sports editor over the chain's West County papers. Then I worked as a sports copy editor for the St. Louis Sun, which ceased publication after seven months (September 1989 to April 1990). After the Sun folded, I knew I probably would have to find a job outside of St. Louis if I wanted to stay in newspapers, so interviewed with a few papers before accepting the Republic's offer. It is a good fit for me. I now work in pagination as a designer.
How did the Missouri School of Journalism prepare you?
It provided me with real-world experience at the Missourian, KOMU and KBIA. It was a big advantage that I knew how to do things that grads from other schools hadn't done. The School connected and introduced me to people.
Are you connected to other J-School alumni?
I am actively involved in the Phoenix alumni chapter and now serve as vice president. Previously I oversaw our scholarship program. This keeps me in contact with J-School alumni in the area, some of whom I knew while I was in school and others I have met in Phoenix who graduated at different times. I am still in touch with my college roommate who was not a journalism major.
What are some of your greatest memories at Mizzou?
I have a lot of good memories of the football and basketball games. Dorm life was fun. I remember the brother floor and having mixers with them.
What is the best lesson you learned while you were at School?
To not take it personally when your copy gets edited.
What advice do you have for current journalism students?
The best piece of advice is to have a lot of knowledge in many areas such as literature, history and politics so you know what you are talking about in journalism. Take classes that you are interested in!
Updated: November 7, 2011