Andrea Beaumont Lewis
Producer at CNN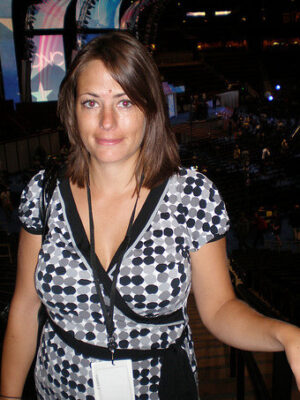 Degree(s): BJ '01 (Broadcast News)
Whereabouts: United States, Denver, Colorado
What do you do in your current job?
I book guests for "Piers Morgan Tonight." People tune in to hear our guests discuss the day's biggest stories, so guest booking is a very important part of the show.
What do you like best about your job?
I love being a part of the big national stories. I have been at almost every major news event in the past ten years – from Sept. 11 and Hurricane Katrina to the disappearance of Natalee Holloway and the Colorado "balloon boy" story. I get to meet the people who are a part of the news and see history in the making.
How did you get your job?
I worked as a desk assistant for ABC News. Then I took an overnight segment producer job at "Good Morning America." Almost two years later I took the next open slot as a dayside booker. I was lucky enough to move to Colorado to field produce for ABC News. And then I moved to CNN's "Larry King Live" and now to "Piers Morgan Tonight" when positions became available.
When did you know you wanted to be a journalist?
I knew when I was very young. I visited a TV station in high school for career day and fell in love with the job.
What has been your greatest achievement in your career so far?
I was a part of a two-time Emmy-award winning team at "Good Morning America." Also, I helped produce a two-hour live telecast of Larry King that raised almost $9 million for the victims of the earthquake in Haiti.
What are your recommendations and advice for current students?
If you are young and aggressive, take the jobs at the bottom and work your way up. Don't be discouraged but know that you may have to work a weekend or an overnight in order to be promoted.
What is the greatest lesson you learned at the Missouri School of Journalism?
I learned how to think ethically. In booking, you are constantly presented with ethical dilemmas; when to put someone's picture on the air or withhold it for good reason, when to withhold information you have learned, when it is necessary to double or triple source, when to back off and when to push. These are all decisions we make every day, and Mizzou taught me how to think these through. The news business is changing and producers at the network are shooting, writing and editing. Mizzou gives you all of these skills. Soon everyone will be a "backpack journalist" and this is the heart of Mizzou's philosophy.
Updated: November 9, 2011