Art Holliday
News Anchor at KSDK-TV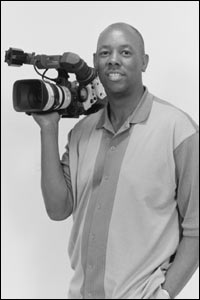 Degree(s): BJ '76
Whereabouts: United States, St. Louis, Missouri
Describe your television station and what makes it interesting.
KSDK has been my professional home for more than 33 years. During much of that time, KSDK has been the top-rated station in St. Louis. Some of the station's success is due to its history. KSDK was the first TV station in St. Louis, and the first to start an early morning newscast, the show I've co-anchored for more than 22 years. We have a lot of talent in front of and behind the camera. We have a lot of passion for news and a desire to be the best.
How did you get your job?
I landed at KSDK thanks to a job tip via the Mizzou Mafia. A former classmate, Rick Gevers, called me about the job opening. For ten years I was a sports anchor at the station. Fifteen years ago, the general manager handpicked me to leave the sports department and become a morning news anchor. As for my executive producer duties, KSDK has nurtured my desire to be a news director someday by giving me managing editor duties followed by executive producer duties.
What are your responsibilities?
As an anchor, I'm on the air three hours a day, and I'm usually responsible for several live interviews each day. I'm a newsroom leader, I assist in proofreading news copy, and I participate in daily editorial decisions which affect the newscasts I anchor.
What is your favorite J-School memory?
Getting hired for my first job three weeks before I graduated (KOCO Oklahoma City, weekend sports anchor). Honorable Mention: Working Saturday nights at KOMU, then after the newscast, watching Saturday Night Live's Weekend Update with fellow students, then heading to Deja Vu or Ford's Theater for a cold beverage.
What would be your best advice to current students?
Work hard. Everything is in place at Mizzou to teach you what you need to know. If you don't get it at Mizzou, it's your fault. Ask questions. Pick the brains of the faculty. Give maximum effort while at the J-School. Luck always seems to follow the hardest workers. Coincidence? I don't think so.
What is the best professional lesson you learned at the J-School?
The J-School stresses being able to perform multiple newsroom duties: writing, reporting, news anchoring and sports anchoring are all things I learned at Mizzou, and they've all come in handy during my career.
What do you consider to be your greatest professional achievement?
My first documentary, Before They Fall Off The Cliff, has been seen by thousands of police officers around the country as part of the Crisis Intervention Team program which trains police officers about dealing with citizens who are mentally ill. A close second is this: I got a live tryout with NBC Sports as a basketball sideline reporter solely based on a recommendation by Bob Costas. NBC didn't even ask for an audition tape, because of Costas' suggestion. I didn't get the job, but I still treasure the fact that Bob Costas thought I was good enough to work at the network level.
What makes you good at your job?
I take the job seriously, but I have a sense of humor about myself. I'm creative. I try to create an atmosphere where co-workers can produce good work and still have a good time and enjoy each other. I love to write. I try to demonstrate high standards and encourage the same from my co-workers.
Who would you like to work with and why?
I'd love to work with Bob Costas. He's been a friend and mentor, and I respect his body of work tremendously.
What are your next career steps?
I really enjoy documentary filmmaking, especially having a camera in my hands. My current documentary project, Johnnie Be Good, is about one of the founders of rock and roll, Johnnie Johnson. I've interviewed some of the most famous names in music, including Eric Clapton, Keith Richards, Bonnie Raitt, Joe Perry, Bruce Hornsby and Letterman band leader Paul Shaffer. My first documentary, Before They Fall Off The Cliff, was about the impact that schizophrenia had on a St. Louis family. In the worst-case scenario of severe mental illness, a son murdered his parents but two older siblings continued to support and love their brother. It's very exciting and fulfilling to find a story compelling enough to hold your interest for the years it takes to complete a documentary. Mizzou gave me all the skills I need for making documentaries.
What is one thing you wish you had done?
I wish I had been hired for the NBC Sports job. I would have been a sideline reporter for the NBA. It was a dream job, and to be in the running but fall short of getting hired was tough at the time.
Updated: June 29, 2020