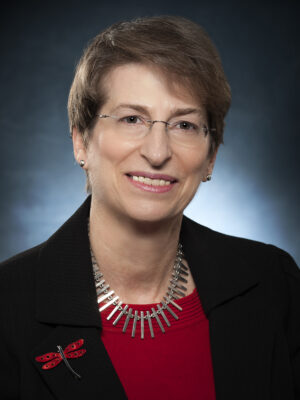 Degree(s): BJ '76
Whereabouts: United States, Bentonville, Arkansas
To see how much of the world Beth Keck's career has spanned, one need only turn over her business card. One side identifies Keck, BJ '76, as senior director for Wal-Mart and lists her contact information in English. The other side lists exactly the same information – but in Chinese.
Keck said she has followed a simple rule to reach this point in her career.
"Don't be afraid to try something different and new," Keck said. "In my career, I've had exposure to a lot of different functions and done several different things. And they all count. I think the most important thing is to make sure you're doing things that you're really interested in and, no matter what, to give your best."
Keck's career has taken her from reporting beats in Missouri and Illinois to a U.S. Government position in Beijing, China, and now, to the private sector in Wal-Mart's home office in Bentonville, Ark. Her interest in journalism began long before she first arrived at the Missouri School of Journalism. Because her father owned the local newspaper in her hometown of Palmyra, Mo., Keck got a taste of journalism from a young age.
"That was one of the main reasons I went to the Journalism School," Keck said. "I grew up in the business."
It was at the Missouri School of Journalism, Keck said, that she gained the skills that have been most valuable to her throughout her career.
"The most useful preparation I received was going to the Journalism School and learning how to write," Keck said. "The basic writing skills that I learned in News 105, as it was called back then, have turned out to be skills that I've traded on throughout my career – no matter if it was in government, journalism or, now, in a corporate affairs function."
Beginning an International Career
After graduating with a degree in newspaper journalism, Keck received her first international exposure during a four-month international exchange trip to India sponsored by 4-H.
"Being assigned to India was a surprise, and it turned out to be a great experience," Keck said. "It was just so different from growing up in rural, northeast Missouri – different religions, different customs, different ways of eating. It turned out to be an excellent introduction to the world, and from there, I got very interested in learning more about different countries. And it eventually morphed into a career."
After returning from India, Keck worked as a reporter for several regional daily newspapers, including the St. Joseph (Mo.) Gazette and the Quincy (Ill.) Herald Whig. While working as a reporter, Keck decided to apply for a Rotary Foundation International Journalism Award, which allowed her to complete postgraduate studies at the Chinese University of Hong Kong. In addition, she earned a master's in international economics and Chinese/Asian studies from The Johns Hopkins School of International Studies.
Keck's international career began as a Presidential Management Fellow with the U.S. Department of Commerce International Trade Administration. She later moved from the Commerce Department to the Overseas Private Investment Corporation, where she was promoted to Senior Insurance Officer with the responsibility of underwriting U.S. companies' investments in China and Central and Eastern Europe. Her next career move was to the U.S. Federal Aviation Administration, where she received aviation sector experience.
On to China
In 1996, Keck moved to Beijing, China, as senior representative for the FAA. During her five years there, Keck was responsible for helping improve China's aviation safety system, open its air traffic system to international flights and lead safety initiatives in South Korea after a series of accidents involving a Korean airline.
While running the FAA office in Beijing, Keck built a strong mentoring relationship with her director, who worked out of an FAA office in Singapore.
"He did a great job of staying in touch with me even though I was in a field office and providing me with support," Keck said. "In particular, he helped me walk through personnel issues in a bicultural environment since I was supervising an all-local Chinese staff, and they had, of course, different ways of approaching work and different ways of approaching conflict. All of that had to be worked through. He was really fantastic in terms of giving me very good advice and support."
Keck joined the Boeing Company in Hong Kong in 2001 as Asia-Pacific vice president for business development. In this position, she led the company's Air Traffic Management business across the region, negotiated the business unit's first commercial contract and oversaw teams developing air traffic management requirements for the region.
Telling Wal-Mart's Story
In September 2004, Keck moved to Bentonville, Ark., where she went to work for Wal-Mart's International Corporate Affairs Department overseeing the Asia region.
"I acted as their window back into Wal-Mart headquarters on a daily basis," Keck said.
Her key functions included government and media relations as well as corporate giving for the region.
In 2008 she moved to a new role as senior director for sustainability where she is part of a small corporate team that guides the company's sustainability strategy.
She was involved in leading the company's 2008 Beijing Sustainability Summit and led the creation of the global sustainable agriculture strategy and goals announced in October 2010. In June 2013 Keck moved to her present position on the Women's Economic Empowerment team where she leads Walmart's effort to train one million women around the world.
Working with business, non-profit and governmental officials from all parts of the globe is the best part of the job, Keck said. Wal-Mart operates in 27 markets and generates sales of more than $450 billion annually.
"I like the international reach of Walmart," Keck said. "It's terrific to have the opportunity to be involved with people in other countries on a daily basis."
Advice to Current Students
Students interested in careers in international corporate affairs should choose a region of the world and work toward competency in one of its languages and an understanding of its culture, Keck said.
"Get some international experience," Keck said. "Whether it be going overseas as a student, work or travel, it all counts. Whatever international experience you can get, it all works in your favor."
Additionally, while writing skills are vital, other abilities are important as well.
"In these corporate functions, you're not only dealing with words," Keck said. "Often, you also need to organize and orchestrate very major and sophisticated events. And, if you have the opportunity, get some government experience through internships in your Congressional, Senate or state offices so that you understand the dynamics of government."
Updated: November 7, 2011