Betty Cole Dukert
Executive Producer (Retired) at NBC News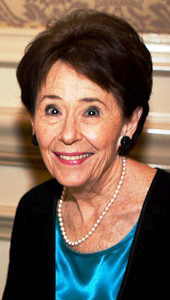 Degree(s): BJ '49
Whereabouts: United States, Washington D.C.
Why did you choose to attend the Missouri School of Journalism?
I intended to become a journalist from about age 13. I can't imagine why, as I knew none. Probably it was movies. Fortunately, when I began to think about specific colleges, I lived in Missouri and knew the journalism school at MU was tops. I set my sights on going there, and my parents planned on how they could make it happen. The most important lesson to learn at J-School, in my opinion, is that journalism is a very special profession, as are medicine and law. Even though there are no standard licenses issued, it is a profession with ethics, involving not only what you do, but what you don't do – a wide and varied profession, growing continually. It is the duty of each of us entering the field to consider and understand the specific obligations of the segment of the public we plan to serve. "History and Principles of Journalism" offered me a guideline at J-School that I didn't fully appreciate until I was working and found that some in my field had never considered the subject relevant. And certainly, I find that large segments of the public don't see it that way, today. In fact, I think the public has much to learn and consider even today in order to understand the purposes and dimensions of journalism. With the onslaught of new technology and new media offering many different versions of "news" and interpretations of standards, it is critical for the consumers of these products to distinguish and select with greater discrimination those outlets they rely upon. They need to understand that all facts do not always reveal truth, all newspapers and magazines are not equally reliable, all TV and radio "news" shows are not equally believable, and all blogs and tweets are not of the same value.
What types of media experience did you gain during and tight after college?
Once in J-School, I toyed with the idea of advertising, thinking it would probably be a better field for females. When I became a senior, the radio station needed a copywriter to do fashion copy for a dress shop, and I was offered the position in lieu of one course. After that semester, I realized I could never happily look another adjective to describe a dress in the face, much as I loved fashion. So if I couldn't write at length about a subject I liked, how could I deal with ones in which I had no interest. That did it for my advertising career. However, my other big discovery in that experience was the amazing power of a few little radio commercials. That turned my thoughts to broadcast journalism. Needing to stay at home right after graduation, I turned down a paycheck of $25.00 per week as a copywriter at one local radio station to take another job at $22.50 at a brand new one (and paying no room or board at home). In that initial position, I had about five minor titles. The staff included 16 males and me. It was a versatile beginning. In fact, I found that doing a variety of duties was a great experience throughout my early work years. Whenever I felt I wasn't learning in a job, I tried to move. My other big interest had long been political science and a hope of working in Washington. I got here after a couple of years at home, beginning at U.S. Information Agency, again a secretarial position, hoping to move to the Voice of America. But in the capital, I had my first glimpse of television. (At the time television networks went only as far as St. Louis). That changed my sights again. Responding to a newspaper advertisement, I applied to be a secretary in an NBC vice president's office. I explained to my would-be boss that I had a journalism degree and hoped to get into television. He said he had had 15 secretaries in 16 years and assured me that if I worked successfully with him for a year, he would help to have me transferred to the NBC television station in Washington, which he did. There I moved around in several different offices and departments, first at a secretarial job, then what now would be called a production assistant. My good fortune was that some of my offices were near the network news department. Television news was quickly expanding its programming in the early '50s, and eventually I had the chance to work for the network on the weekends as a production assistant. Then in 1956 came the opportunity to interview for assistant producer of "Meet the Press." I never wanted to look elsewhere again.
After getting the job at Meet the Press, what kept you with the show for nearly 50 years?
In 41 years with the program, progressing from associate producer to producer, senior producer and finally, retiring as executive producer in the beginning of 1998, I don't remember a boring day – maybe a few pleasantly quiet ones. In our research we dealt with a wide array of major issues from agriculture to nuclear weapons. That provided a continuing education and a chance to see politics up close. It also offered the opportunity to see most major U.S. cities and many foreign ones. Of course, the ringside seat to view historic figures was exciting.
What was the hardest news decision you had to make during your tenure at Meet the Press?
I can't single out a specific news decision as the hardest. In general though, it was knowing whether or just when to interview a person you thought was having a negative effect upon the nation, realizing that you might be encouraging or promoting the subject by such an interview. That meant making the difficult decision of whether that person was already making waves to the extent that he or she should not intellectually be ignored by the public or major media.
What was your most challenging and/or memorable assignment for the show?
Probably one of the most difficult assignments was when I went in 1975 to Saigon as the lone MTP producer with a small crew for a program with the new president of South Vietnam, and a panel of questioners composed of illustrious journalists there covering the war. We thought that we had agreement for both the president and his new vice president to be interviewed together. Just before the program, which was to be taped at a Vietnamese TV studio and flown back for Sunday presentation, I learned that the president wanted to postpone the interview for a week and didn't want his vice president to appear with him. In order to negotiate with the president in person, I had to run past a line of armed guards and plead my way into speaking with him. I think that was one time being female may have been an advantage. At least I didn't get shot or arrested. But the president and his press secretary insisted that I be the one to inform his vice president that he was being bumped from the program, which could then be taped the following day. I agreed, but we made the last plane we could possibly take to get our tapes home in time for airing. When we arrived in Los Angeles, we saw newspapers with front pages headlining that the Vietnamese president had thrown his new vice president off an American TV program. It did probably increase the audience that day!
You have won numerous awards for your work, including the prestigious Missouri Honor Medal for Distinguished Service in Journalism and the RTNDF First Amendment Service Award. What do these awards mean to you?
Winning the Missouri Honor Medal for Distinguished Service in Journalism was a highlight of my career not only because of the prestige of the School, but because of many happy memories of my days there. To be the first recipient of the First Amendment Service Award of the Radio and Television News Directors' Foundation in 1998 was another high point, as it was designed for persons behind the screen – of whom there are many – in a position to influence greatly their news product and, who "through the high caliber of their work have standards of excellence that are the underpinnings of the First Amendment rights to freedom of the press."
What lessons from journalism's past do you think could be used to improve journalism's future?
"Freedom of the Press." That principle is what all our careers are about. And that principle is rather shaky at the moment in many minds. All those in the journalistic field need to do their best to uphold the responsibilities and privileges of this essential tool of democracy. And hopefully, that will help members of the general public to understand their own obligations as consumers of news. After the recent death of The Washington Post's David S. Broder, widely considered the nation's leading political columnist and reporter, an article in that paper urged that "…his journalism, his values, his ethics must be replicated and bred in the Post's newsroom alongside the Internet-era values of speed, agility and engagement." This is a standard any true "news" outlet should strive for in today's turbulent journalistic age.
Having retired from Meet the Press more than 15 years ago, how much contact do you still have with news?
I try to keep learning. My husband and I wake up to news, thanks to a radio-alarm, and I try to follow news on TV throughout the day when I am at home. We still take three daily newspapers regularly and often talk at breakfast about the different ways various publications (or broadcast news programs) are treating the same event or subject. J-School taught me that multiple sources help to shape the fairest and most accurate picture of what's going on. But we travel a lot. We've visited all seven continents together since 1998, so we've gotten in the habit of watching CNN International and BBC as well as domestic channels. Joe is good with other languages and often complements domestic news with some of the international editions he reads.
Updated: November 3, 2011