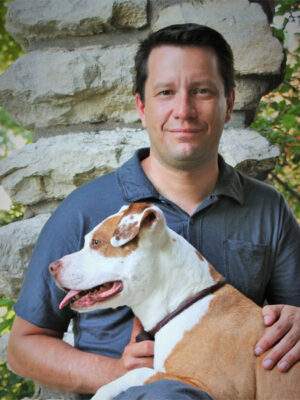 Degree(s): BJ '95
Whereabouts: United States, Kansas City, Missouri
After years of working in the advertising industry at agencies like Bernstein-Rein and Barkley, Brent Toellner, BJ '95, did not expect his life to deviate from the ad business. That detour first began when a newfound passion for dogs prompted him to begin a side career in animal advocacy.
"It was never on the radar screen for something I would've done," Toellner says of his work in animal advocacy. "It was not part of the career path or the career plan; it just sort of found me."
Now advertising professional by day, animal shelter president by night, Toellner has found the skills he first developed at the Missouri School of Journalism an invaluable asset to his volunteer work. While still in college, he would have laughed at the idea of one day becoming the president of an animal shelter.
"It was never on the radar screen for something I would've done," Toellner says. "It was not part of the career path or the career plan; it just sort of found me."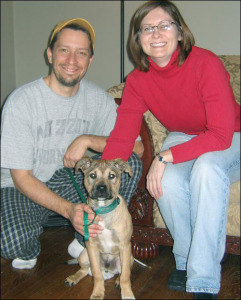 Newfound Passion for Dogs
Toellner's passion first began to emerge when he and his wife, Michelle Davis, decided to adopt their first dog in January 2005.
"We had a feeling that really cute puppies and highly adoptable dogs were not the ones that were usually getting euthanized," Toellner says. "Something that was important to us was that we wanted to essentially save an animal, versus trying to adopt one that was going to be easily adopted by someone else."
When the shelter in Kansas City presented them with a pit bull as an option, they were hesitant. With minds full of negative perceptions of the stereotypically aggressive breed, Toellner and his wife put a lot of thought into whether adopting a pit bull was right for them. It was through a combination of expert opinion and hands-on experience that the two began to see pit bulls as an incredibly misunderstood dog breed. They soon welcomed pit bull-mix Grommit into their home from a local rescue group.
A few months later this same animal rescue group received another pit bull and thought immediately of Toellner and Davis, and their compassion for this breed. The pit bull SweetP, who was nearly starved to death, soon became central in the couple's lives. Through caring for both Grommit and SweetP, Toellner discovered his passion for dogs, as well as for making a difference.
Demonstrating Dedication for Animals in New Orleans
It has been through this unanticipated passion for animals that he has been able to benefit his community – both near and far.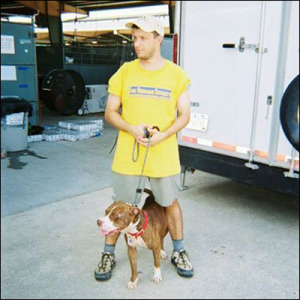 When hurricane Katrina struck New Orleans in 2005, Toellner and his wife traveled from their home in Kansas City, Missouri, to assist with animal rescue efforts after the storm. The two were given the opportunity to volunteer in part because of their newly discovered understanding of pit bulls.
Thousands of animals were left behind when residents were forced to evacuate the city. The animals that did survive the storm were brought to a makeshift animal shelter in hopes of being reunited with their owner.
Toellner recalls one family who spent endless hours at the shelter – walking back and forth, looking at row after row of lost, abandoned animals in search of their beloved dog. Just as they were about to give up, Toellner witnessed the moment they caught a glimpse of their dog for the first time since leaving it behind. Tears began streaming down their faces as the dog immediately recognized them and began to bounce around in its kennel.
After seeing so many owners leave the shelter empty handed, this joyous reunion was a priceless moment that Toellner recalls as one of the most touching in his entire life. Although at the time he was a relatively new dog lover and owner, he was already able to relate to the emotion that a potential pet loss could unveil.
Dog Adoption Develops Into Animal Advocacy
A few short months after his volunteer work in New Orleans, Toellner faced the possibility of losing his own pets. The threat began when two residents in the Kansas City area were attacked by pit bulls. The media provided ample coverage of the two separate incidents, which led the local government to consider banning the dog breed altogether.
This event spurred Toellner's life-changing transformation from pet owner to animal advocate.
"All of a sudden it went from one day having a family pet, to having a dog that was potentially being targeted by my area city council," Toellner says. "It essentially got me involved in fighting for the opportunity to keep my pets, as well as helping people understand that the dog that has been in my house is not a problem."
Inspired to become involved in politics and animal welfare, he joined the group Kansas City Dog Advocates, focusing on local animal legislation with hopes of keeping his two pit bulls. During his time of involvement, Kansas City made the decision to merely require mandatory sterilization of pit bulls, rather than banning the dog breed.
Taking Over Kansas City's Animal Shelter
Through involvement in animal advocacy, Toellner quickly developed interest in the local animal shelter. He discovered that when Kansas City's municipal shelter was run by the city, the euthanasia rate was around 65 percent. With hopes of improvement, Toellner and Davis supported Kansas City's decision to hire a private contractor to manage the shelter in 2009.
While euthanasia rates did decrease under private management, the improvement was minimal. It was clear to Toellner that the shelter was still not being managed to its full potential. When formal complaints were filed against the private management firm in 2011, Kansas City made the decision to end the firm's contract for the city's municipal shelter.
"The problem of animals dying in our local shelter was an inherently solvable problem. When there's a problem with a viable solution, it's not in my nature to not fix the problem."
When the city's efforts to seek out other shelter management options were met with little interest, Toellner needed to think, and fast. He was concerned that the city would begin managing the shelter again and euthanasia rates would go back up. Within a matter of three weeks, he helped create an entire bid and business plan with hopes of taking over Kansas City's animal shelter, thus co-founding KC Pet Project with his wife, Davis.
"I feel like we were in a unique situation that allowed us to make a positive difference," Toellner says. "The problem of animals dying in our local shelter was an inherently solvable problem. When there's a problem with a viable solution, it's not in my nature to not fix the problem."
In 2011, KC Pet Project was granted the bid to run the city's shelter. The group took over five weeks later.
KC Pet Project Becomes Shelter Success Story
As co-founder and president of KC Pet Project, Toellner maintains various duties. He is largely responsible for maintaining a healthy relationship between the animal shelter and the city, and he has also been able to use his advertising expertise to further the shelter's success.
Even though Toellner is used to working with multimillion dollar budgets in the advertising industry, he has not let KC Pet Project's minimal budget stand in the way of the shelter's potential to thrive. Currently, KC Pet Project is the third largest open-admission, no-kill shelter in the United States. When KC Pet Project first took over the shelter, only around 63 percent of animals left the shelter alive. Now, that number has increased to more than 90 percent.
It is Toellner's interpretation of data and analytics that has helped KC Pet Project reach this point. As a no-kill animal shelter, KC Pet Project often encounters a lot of crowding issues. Through data analysis, he has been able to see what types of animals spend more time in the shelter than others, and therefore discover new methods to avoid overcrowding.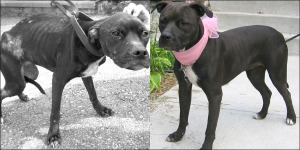 Annually, the 65 full- and part-time employees take care of approximately 10,000 animals, with around 500 of them at various adoption facilities and another 100 in foster care at any one given time. It is important that the shelter has a quick turnaround rate for adoptions in order to accept more animals each day.
Although the idea of foster homes is not a new concept in the animal shelter realm, Toellner has borrowed this approach to keep the number of animals at the shelter to a minimum. Fostering is especially important for younger animals, such as kittens, that would get sick and die if left at the shelter. Keeping these at-risk animals in foster homes helps boost the likelihood that they will prosper.
Advertising Experience Influences Shelter's Success
Toellner has still been able to maintain a steady career in the advertising industry while being president of KC Pet Project. Currently, he is the advertising and marketing consultant for Missouri Life Media and works from his home in Kansas City. He handles the advertising sales and consultations for marketing and social media for the Missouri Life and Missouri Business magazines.
Due to his advertising experience, Toellner is often used as a go-to source for marketing and promotions ideas for the shelter. Through his extensive knowledge of media planning — finding the right message for the right person at the right time — he has been able to increase the exposure for the animals at the shelter.
Since the beginning of KC Pet Project, it has opened up two off-site shelter locations — one at the Kansas City area shopping center Zona Rosa and another at Petco in Overland Park, Kansas. Although many people are reluctant to go to an animal shelter because the number of animals is overwhelming, they are likely to enter an environment where they feel comfortable. These off-site locations have been designed more like pet stores and have helped KC Pet Project improve adoption rates.
Animal Advocacy Finds No End
From volunteering in New Orleans to co-founding and maintaining the role of president at KC Pet Project, Toellner has made his mark in the animal community — one that has been significantly aided by his advertising experience.
"When you find yourself in a situation where you can make a positive difference, I feel like there is an obligation to do it," Toellner says.
Toellner spends around 20 hours per week at KC Pet Project, all of which is completely voluntary and unpaid. It is through programs such as the Dogs Playing for Life playgroup program that he finds assurance his time is well spent. Dogs Playing for Life enables the dogs at the shelter to exercise and socialize together, helping them become more adoptable animals. While the employees at KC Pet Project may not have time to take 200 dogs on a daily walk, they do have time to allow these dogs to play with each other in the shelter yard.
One dog in particular, named Georgia, came to the shelter after she was surrendered by her owners because of her aggression toward other dogs. Unsure of what step to take, shelter employees decided to implement the playgroup program for Georgia. Almost immediately they discovered her reactions were fear-motivated, attempting to scare other dogs away. It all came down to the realization that she was poorly socialized, a trait that was easily fixed through interacting with other dogs.
Through this program, Georgia learned to trust other dogs, and she was adopted two weeks later. It is success stories like Georgia's that continue to fuel Toellner's passion for his volunteer work.
"When you get an opportunity to end every week with the feeling that you made life better for a lot of living beings — both human and canine/feline — that's a pretty rewarding feeling."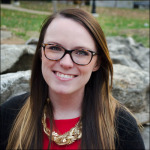 Hannah Wilson is a senior studying strategic communication. She will graduate in May 2015 with a bachelor of journalism degree with a minor in psychology and a multicultural certificate. A native of Sedalia, Missouri, she has held internships with the Missouri State Fair and the Boys and Girls Club of Columbia. After graduation, Wilson plans to work in public relations for a nonprofit in mid-Missouri.
Updated: December 16, 2014