Brian Brooker
Global Creative Director at Garmin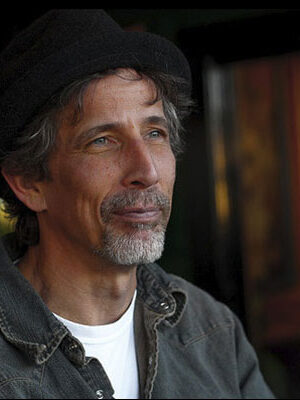 Degree(s): BJ '83
Whereabouts: United States, Kansas City, Missouri
After 30-plus years of working in advertising, Brian Brooker, BJ '83, has learned the importance of relationships. Whether they are between him and his creative team, or between the products he works on and their consumers, Brooker's success in building strong relationships comes down to one thing: He gets people.
"You have to figure out what's important to people and what resonates," Brooker says.
It is through his understanding of people that Brooker has been able to help a variety of clients deliver messages to their customers, working seamlessly with other creatives to make it happen.
Sometimes that means starting with what resonates between him and an art director, bouncing ideas back and forth to eventually create an idea customers can relate to. Other times in his career, he has taken an existing concept that people can connect with and has helped to develop and execute it through advertising.
Throughout his career, Brooker has taken his creative ability and molded it into whatever role his job entailed.
Learning Creative Roles and Processes
Brooker initially was interested in advertising because it is rooted in creativity. Other creative occupations he considered while he was a teen – like acting – just weren't as realistic or practical.
"In advertising, I could be creative and have a job," Brooker says. "It's a nice mix of business and creativity."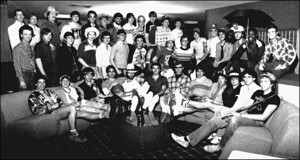 He got his first taste of what that mix was like in the campaign class taught by Professor Russell Doerner, BJ '50. In this class, Brooker was responsible for every aspect of a campaign – from marketing to media to the creative. He says the impact the class had on him came mostly from Doerner's experience from the advertising industry and the direction he gave his students in class.
"Russ Doerner probably had the most profound effect on me because he was the most direct link with what I wanted to do, which was being on the creative side of advertising," Brooker says.
After graduating from the University of Missouri, he landed his ideal job. He worked as a copywriter at Bernstein-Rein and then Barkley-Evergreen in Kansas City. After a couple of years, Brooker moved to GSD&M in Austin, Texas.
Brooker says his job as copywriter at both agencies was to develop great writing and ideas. He was responsible for developing the concepts behind ads and then writing copy for them – whether they were print ads or scripts for TV and radio spots.
Being tasked with conceptualizing ad ideas early in his career gave him the chance to figure out what creative process he prefers, whether the work is by himself or with one or two other people.
When brainstorming by himself, Brooker likes to get out as many ideas as he can. He might come up with pages full of ideas, and then narrow in on the ones that align themselves with the message and the strategy that the client has. Brooker has always preferred working with an art director or another creative, though, because it makes the process more efficient.
"Maybe you've got an idea you think is good but really isn't," he says. "Or, the best thing that happens is that you build on each other's ideas and end up going someplace you wouldn't have by yourself."
Brooker and his art-director partner, Holland Henton, built on each other's ideas at GSD&M to create Southwest Airline's "It must be football season" campaign, which ran during the NFL season. The two thought about scenes in football and how they could relate to scenes in real life.
One ad the pair conceived featured a woman in a grocery store dropping a cantaloupe, which was then jumped on by a frenzy of shoppers – as if they were recovering a fumble.
"It was born on the idea that around football season people act differently," Brooker says.
Brooker spent over 10 years as a copywriter creating ideas for campaigns that resonated with customers, all while delivering a brand's message. He worked with art directors, who helped generate the ideas, and with creative directors, who helped improve an idea and execute it through advertising.
With plenty of experience on the copywriting side of things, he made the switch to creative director for the last five years of his career at GSD&M.
"It's a different type of creativity," he says in contrasting his creative director position with his previous role as copywriter. "As creative director, you're the net that hones in on the best ideas and helps make them better."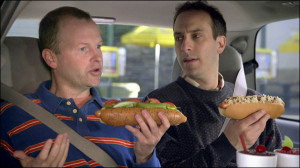 Directing a Unique Campaign
Brooker took his idea-polishing skills back to Barkley in Kansas City, where he was creative director for the Sonic "Two-Guys" campaign. The campaign features two guys in a car at the Sonic Drive-In. Brooker says that successful campaigns, like this one, often hold a simple truth within them that strikes a chord with the audience.
"It's an idea people can relate to," Brooker says. "People get in their car and spend time laughing and having fun together, so I think that's why it's an idea that has continued for so long."
Although Brooker did not create the idea for the ad campaign, as creative director it was his role to see the relatable aspect within it and draw it out.
This particular campaign grew out of the idea that friends can have ridiculous conversations when they are together. In order to really capture this aspect of peoples' lives, the team had to take a unique approach to producing the commercial.
"Lots of times people will spend an entire shoot on one idea," Brooker says. "We would take 15 ideas to the shoot and see which ones caught fire."
He said that the creative freedom in this particular commercial came from the two improv-actors who starred in it. Comedians Peter Grosz and T.J. Jagodowski were able to take a concept and run with it during the shoot. This allowed for a real, unscripted depiction of two friends goofing around together.
Capturing the inane side of friendships allowed for the campaign to rise in popularity across the country. Brooker, always on set with his keen eye for the relatable, helped secure that success.
Moving to the Client-Side
Brooker might have continued working for advertising agencies if it were not for a friend who told him about an opening for a global creative director at Garmin, a company that makes GPS and outdoor-living technology.
Working for Garmin meant Brooker would only work on campaigns for its variety of products, instead of spreading his talent across several different clients at once. After over 30 years of working for agencies, Brooker decided he was ready for that change.
"I'm always inspired by better opportunities that coincide with a point in my life where I want to try something different," Brooker says.
As a client and not an ad agency, Garmin has offered him a deeper, more meaningful relationship with the various products and workers there. He has enjoyed working in the same building as the people who create the products he creates advertisements for – as opposed to seeing them three or four times a year, as he would on the agency side.
Upon joining a company that was founded on the technology and equipment it produces, Brooker felt as though Garmin's advertising focused almost entirely on the impressive features of its products. His goal has been to move from advertising the various features to advertising one benefit that customers can connect with.
Much as he did while working for agencies and his multiple clients, Brooker seeks to communicate a single benefit of Garmin products in a perspective that is relevant, motivating and inspiring to customers. Being able to work on just one client – Garmin – has been a welcome change for Brooker.
Not having to constantly pitch to potential clients gives his new job a slower pace and greater depth. Brooker says he's not sure if he would have liked it right out college, but at this point in his life, it suits him well.
"It was something I always thought of – that someday it might be rewarding to go to the client side," he says.
A Life Full of Creativity
As a young professional, the fast-paced style of agency advertising was new, exciting and a huge time commitment. Now, his work is less likely to spill over into his personal life, so he can truly enjoy life outside of advertising.
Above all else, his time outside of work is dedicated to his wife, Beth, and their two children. Brooker says that working for Garmin on the client side has meant he doesn't have to worry as much about working late or missing out on family time.
"I work hard during the day, but then I go home and join my family for dinner," Brooker says. "I know there's more to life than advertising, and I actually get to experience it."
Sometimes the experiences in his personal life still contribute to his creative ability. He says that his kids' youthful perspectives can inspire his creative thinking. Other times, it is his hobbies that keep his creativity in check. Brooker's Twitter page, for example, is used entirely for poetry. He posts one poem per day – a challenge that pushes him to stay fresh and express himself.
"What attracted me was that there were some constraints," he says, referring to the 140-character limit on Twitter posts.
This limit helps train him to work creatively under the constraints in his professional career – for example, being creative while sticking to the message and image Garmin wants to convey.
To get a break from all things creative, Brooker turns to ping-pong, a game he has played a couple times a week since he was a kid. As an adult, he appreciates that it forces him to clear his mind. He can't be thinking about other things when he's playing, which can serve as a much-needed break from his work.
Brooker says clearing his mind is actually a part of his brainstorming process; it's as if he has an innate and inescapable creative mind.
For him, that is a great thing. His creative ability has been the driving force in his enduring career in advertising – a career he hopes will continue for long time.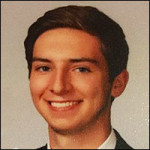 Nick Farley is a junior studying strategic communication at the University of Missouri. He is originally from Cincinnati and came to MU to study at the prestigious journalism school. Farley will graduate with honors in December 2016, one semester early. He is currently a content strategist intern at Lift Division, an in-bound marketing agency in Columbia. He plans to enroll in the School's graduate program after graduation to pursue a master's degree in strategic communication.
Updated: May 26, 2016