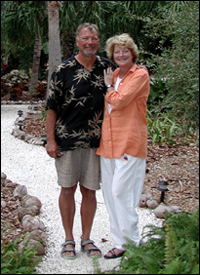 Degree(s): BJ '70 (News Editorial); MA '71
Whereabouts: United States, Kansas City, Kansas
What was your first job?
My first job was working for a small public relations firm in Columbia, Mo. We published an agricultural magazine. I had never set foot on a farm before, but then spent two years driving a sports car all over the country interviewing farmers about our client's product. We produced black-and-white videotapes of the interviews.
You spent 30 years working in advertising. What was the most rewarding aspect of your career?
The most rewarding aspect of what I have done is to help create a culture at VML where excellence is cherished, initiative is rewarded and people can grow as fast as their abilities will take them. It delights me that my daughter Betsy, a Syracuse University graduate, is now an account supervisor at VML's New York office. Hopefully, she and her generation of bright, hard-working co-workers can take the company to new heights. My other daughter, Katie, is practicing the same initiative with respect to her career as an event planner in Washington, D.C. You just need to give young people a chance.
You've been teaching a special topics course for the School. Tell us about it.
I have taught my class at the Missouri School of Journalism for seven years. In the class, I take a group of students to a small Missouri town for a week right after graduation. We set up a mini advertising agency in the town and pair the students up with local merchants. The students spend the week working on marketing and advertising programs for the merchants. The class culminates with a PowerPoint presentation to all the clients, town fathers and the Chamber of Commerce. I created the class in an attempt to replicate the real world. Students tell me they learn as much in a week as they do in some classes lasting a semester. I teach the class because it allows me to give back to the School without tying me down to a rigorous semester's commitment.
Now that you've retired from the agency, what interests are you pursuing?
My wife and I spend most of our time in Florida. We sail our 43-foot sailboat all over the Gulf Coast and the Bahamas. I also do some adventure travel writing for publications like the Los Angeles Times travel magazine and Sailing magazine. I also am an inveterate trekker, bicyclist, kayaker and sometimes tri-athlete.
What do you think it takes to produce successful advertising today?
It requires an absolute, unwavering attention to the customers' needs. Most advertising misses the mark because it is irrelevant or has too much clutter. If the message is irrelevant, no amount of packaging can turn a bad idea into a good ad.
How has this changed through the years?
The tenant has held true over the years and is even more important with the explosion of media choices.
What was the best professional lesson you learned at the J-School?
Working on a deadline. I was a News-Editorial major. My major professor was Professor Duffy. He was a tough old bird who wouldn't tolerate excuses. When the deadline hit, you had to have your story on the spike.
What would be your best advice to current advertising students?
Practice your craft. Don't waste your summers being a lifeguard or swim coach (okay…you can waste one or two summers doing that.) Once you are a junior in college, spend all of your time working in your field via internships, paid or unpaid.
What are three adjectives to describe you?
Adventurous, because of trekking Mt. Kilimanjaro and my sailing and kayaking escapes. Supportive, because I created a culture at VML that encourages young people to take charge. Strategic, because even in retirement, I tire of the trivial and hone in on the bigger picture.
Updated: November 9, 2011