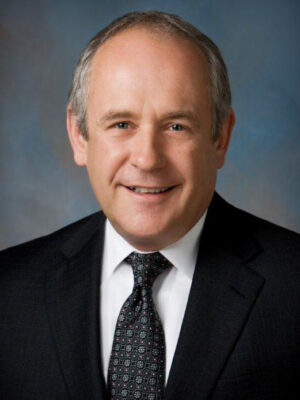 Degree(s): BJ '81
Whereabouts: United States, Washington D.C.
What do you do?
I was named president and CEO of the National Academy of Public Administration in June 2011. The Academy is an independent, non-profit, and non-partisan organization, chartered by Congress to assist government leaders in building more effective, efficient, accountable, and transparent organizations. I was elected as an Academy Fellow in 2008. In November 2009, I was chosen to present, as part of an Academy team, to senior members of the Iraqi government at a conference in Baghdad to discuss the fundamentals of an effective civil service. I also served on the Academy Panel charged with assessing the design, implementation, and impact of the Defense Civilian Intelligence Personnel System. Prior to joining the Academy, I served in two successive Presidentially-appointed and Senate–confirmed positions. From 2006 to July 2011, I served as Chair and Commissioner at the Postal Regulatory Commission. The Commission is the regulatory body charged with oversight of the U.S. Postal Service. From 2001 to 2006, I served as deputy director and acting director at the U.S. Office of Personnel Management. OPM is the agency charged with overseeing the U.S. civil service.
What is the best professional lesson you learned at the J-School?
I learned how to be a good writer and good communicator. Being able to write well is probably the single most important skill that you can bring to the workplace. Journalism imbues you with the need to communicate and write well. Being able to effectively communicate and get your point across succinctly – with as limited words as possible – is what newspaper reporting is about.
What advice do you have for current students?
They need to keep their options open. Journalism is rapidly changing. Print media is seeing its business model change rapidly, but the Internet offers many opportunities in business, public service and government. A wide variety of industries are looking for people who can effectively communicate. Being able to write well and present yourself well is one of the single most important aspects that an employer would look for. I think that the skills you're learning would be applicable in many different arenas.
What is your favorite J-School memory?
I can't recall a "favorite" memory, but I have some key memories. I remember walking through the old Neff Hall when I heard that President Reagan had been shot. And I always remember springtime because the flowers and the campus would emerge from the mid-Missouri winter. It was always such a beautiful place to be. I remember sitting in that old Neff Auditorium going through the history and principles of journalism class. I really enjoyed the experience. It was one of the schools in Missouri that really attracted people from across the country, if not across the world, and I thought it was a really diverse, interesting student body.
Describe the careers of your family members.
Grandfather (Cowgill) Blair, who attended the School from 1910-11, went on to become president and publisher of the Joplin (Mo.) Globe. His brother-in-law, Morris Harris, BJ '21, was a graduate of the J-School as well, and was chief of the Associated Press News Bureau in Tokyo and Shanghai before World War II. Harris later became a prisoner of the Japanese for 72 days in Shanghai, along with three other University of Missouri graduates. He reported from the Far East. My aunt, Rebekah (Blair) Hughes, BJ '39, worked at the Globe for a little bit before marrying Fred Hughes, who later became president of the Globe as well. Their daughter, Sallie Hughes, BJ '68, is my cousin. My oldest brother, Tim, BJ '73, does public relations work in Los Angeles. I also have a niece, Amy Blair, BJ '05, who is a legislative assistant for U.S. Sen. Kit Bond in Washington, D.C.
What memories do you have of your grandfather receiving the Missouri Honor Medal in 1960? How meaningful was that to you and your family?
I was pretty young when he died. I was only about 6 years old, but I remember that his relationship with the School and the University was a real point of pride for him. I remember my dad talked about it. My brother has the medal, which my grandfather received alongside David Brinkley. My grandfather was a member of the University of Missouri Board of Curators, and I think to be honored by the J-School in that fashion was quite memorable for him.
What does it mean to you to be part of a family legacy at the School?
I think that it is a point of pride. We're a family that had always been involved in the public eye. Public service was valued, but moreover being involved in the community. I can't imagine a better way of being involved in one's community than having worked on the local community newspaper or in one of the local media outlets, be it the local radio station or the television station. You really get a feel and a pulse of the community, and you can help shape it. That's what I think is so fascinating about it. In journalism you report it, but by reporting it, you shape events as well.
Did any of your family history inspire you to apply to the School?
Well, I'm probably a sixth or seventh generation University of Missouri graduate. My grandmother's relatives, members of the Harris family, were among the earliest settlers in central Missouri, and her grandfather, a judge in Boone County, was active in founding the University. There's a long history of the Harris family in central Missouri, and at least four generations of Blairs have gone to the University. I guess I attended kind of by default.
Are there any non-Mizzou alumni in your family?
We've always had a deep affection for the University of Missouri, but there was a split in one side of the family. My uncle, C. Cowgill Blair Jr., earned his degree from the University in economics, but his three children all went to the University of Kansas. My wife, Michele, is actually a graduate of KU as well. At the football games, I think she gets a little tired of me playing the Missouri fight song, but I have to go watch KU games, so she gets even.
Updated: November 2, 2011