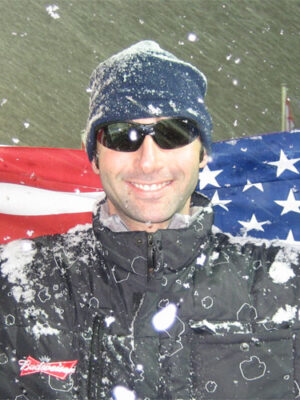 Degree(s): BJ '99, BA '99 (History)
Whereabouts: United States, Detroit, Michigan
As a junior in high school, Dan Pierce thought he had the next stage of his life – and maybe even the rest of his life – already figured out. His plan was to go to the Ohio State University, get his degree and eventually become a broadcaster for his favorite baseball team, the Cleveland Indians.
Growing up in Cleveland, going to the Ohio State University would have been a natural choice for Pierce, BJ '99, BA '99. Born into a family of diehard Buckeyes fans, he had never considered any other universities. But after attending a summer workshop at the Missouri School of Journalism while he was in high school, Pierce fell in love with the University of Missouri, and he decided it was the right – and the only – place for him.
Enter life-changing choice No. 1: Switching out Ohio State's scarlet and grey for Mizzou's black and gold.
"My decision to go to the University of Missouri is the reason why I am where I am today," says Pierce, who currently serves as a senior vice president in the Detroit office of FleishmanHillard, a leading global communications firm that specializes in public relations.
Pierce arrived at the Missouri School of Journalism intending to study broadcast journalism, with hopes that the prestigious school would best prepare him to land his dream job as the radio voice for the Cleveland Indians. But in the middle of his junior year, life-changing choice No. 2 redirected his course when he found his true passion: public relations. This realization inspired him to change his emphasis area within the journalism school from broadcast to advertising, a decision he sees as altering his future.
"My decision to go to the University of Missouri is the reason why I am where I am today," says Pierce, who currently works in communications at the General Motors World Headquarters in Detroit.
He believes without Missouri's journalism school he wouldn't have been given the same career opportunities, and he may not have found a path to public relations.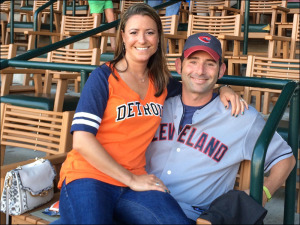 "While Mizzou wasn't the reason I got every single one of the jobs, Mizzou was the reason I got my first job, and my first job was the reason I got my second job," Pierce says. "So it all kind of fell into place. Who knows where I would have been if I would have chosen to go to Ohio State?"
Sports, Beer and Cars: Every Man's Dream
Working in the public relations industry for 15 years has given Pierce an opportunity to focus on promoting things he is passionate about, which for him includes three things.
"I love sports, I love beer and I love cars," Pierce says. "Fortunately throughout my career I've been able to shape it around things that I love."
Sports were his first love, so it was only fitting that he began his career in the sports industry. After graduating, Pierce took a job as an intern in the Cleveland Indians' advertising and publications department. Keeping alive his childhood aspiration of working for his favorite baseball team, he spent part of the 2000 baseball season at Progressive Field, writing game recaps and news releases.
Pierce continued to follow this passion when he was hired as managing supervisor of marketing communications at FleishmanHillard in Kansas City, Missouri. While there, his primary clients included Visa's sports sponsorships of the NFL, the Olympic Games and NASCAR, as well as Gatorade Thirst Quencher.
"I love sports, I love beer, and I love cars," Pierce says. "Fortunately throughout my career I've been able to shape it around things that I love."
But for Pierce, his favorite project while at FleishmanHillard didn't come from any of these "big name" clients. As a history buff and passionate sports guy, he found his pro bono work for the Negro Leagues Baseball Museum in Kansas City to be the most meaningful and rewarding. By getting stories placed in media, he helped bring attention to the museum and its efforts to honor players of the Negro Leagues, and the news attention then caused an increase in donations to the museum.
"You really felt like you were making a real impact and preserving the legacy of an era of baseball in our country that needed to be preserved," Pierce says.
An Opportunity Arises
When approached by Anheuser-Busch in 2005 with the chance to launch Budweiser in markets all over the world, Pierce jumped at the opportunity. As the company's director of international communications, Pierce quickly became a self-proclaimed "beer expert."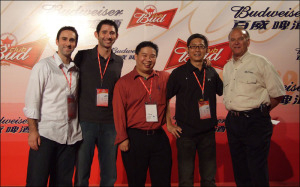 In this role, he combined his love for sports with his love for beer, creating and executing public relations plans for Budweiser's global sports properties, including the 2006 FIFA World Cup, NBA, NHL, and the 2006, 2008 and 2010 Olympic Games.
The 2008 Olympics held in China were particularly memorable for Pierce. Because the Olympics are a global event, the brewing company had the opportunity to build awareness for Budweiser on a global scale. To do so, Pierce's team threw the biggest, most exclusive parties at "Club Bud," inviting all of the celebrities and athletes to attend after the games.
Club Bud became a place for celebrating the "spirit of the Olympics," he says, and made Budweiser a huge part of the social scene in Beijing. The event was a resounding success and a highlight of Pierce's career.
Completing the Dream Job Trifecta
After becoming immersed in the sports and beer industries, Pierce moved on to promoting his third passion – cars.
After spending two years with Ford Motor Company supporting its environmental initiatives and vehicle electrification plan, Pierce's old firm reached out to him to help establish a new office in Detroit.
In 2012, Pierce returned to FleishmanHillard (FH) as a senior vice president and really found his groove in the automotive industry.
Pierce's position within FH was unique compared to other senior vice president roles at other agencies. Although he had an office inside FleishmanHillard's Detroit office, Pierce was truly embedded in General Motors and worked on a daily basis from inside the GM Renaissance Center, which is GM's world headquarters in downtown Detroit.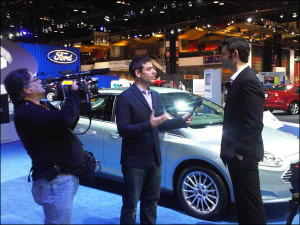 At FH, Pierce spent much of his time leading a team that supported Cadillac's new vehicle launches, whether they were brand new vehicles being launched for the first time or refreshed models. To help identify which parts of the vehicle to talk about with media and consumers, Pierce spent a lot of time with engineers, designers and marketers, trying to understand all of the nuts and bolts of the car.
Typically, vehicles do not actually arrive on dealer lots for up to a year after being revealed at an auto show. While the vehicle gets a lot of attention at the auto show and when it's being sold, Pierce's job was to keep the car in the news throughout the period in between.
Doing that takes some planning. "What we tried to do was lay out almost a year's worth of news stories to talk about the vehicle," Pierce says.
Constant news coverage helps to maintain conversation among the public, and it also works to give people a reason to hold off on buying a vehicle until the new Cadillac vehicle is available.
In 2016, Pierce joined GM full time to help manage the company's technology communications team. The four person group works with engineers to create awareness for products inside a vehicle like OnStar, 4G LTE Wi-Fi capability and even autonomous (hands-free) driving technologies.
GM is in Pierce's blood and he plans on staying with the company for the long haul.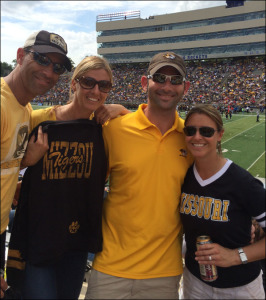 "My dad worked at GM for 35 plus years," Pierce says. "There is a lot of excitement at GM for our new vehicles and technology, so I may just stick around for 30 years myself."
Regardless of where life takes him, Dan Pierce knows one thing to be true: He will always be an MU football season ticket holder. Aside from traveling 10 hours to Columbia, Missouri, for every home game, Pierce, second from right, also cheers on the Tigers at some away games, such as this one at the University of Toledo in Ohio.
Leading the in-car technology communications team for General Motors, however, is not all playing with gadgets and test-driving cars.
"Working at GM has its challenges, but the company has really cool, global brands, and every day that I go to work is different," Pierce says.
Working with the media is a daily challenge for Pierce because on any given day, he might be completely booked with meetings and tasks, but there could always be that one thing that causes him to abruptly change his schedule. Sometimes, that one thing is a call from a reporter asking for to interview key executives. Other times, it's an opportunity to launch a new vehicle or host media from around the world at one of GM's assembly plants. Regardless, the challenge is also part of what makes his job fun.
"I'm always going to keep learning and always hopefully continue to be a better PR practitioner or PR counselor than I was the day before. There's been a lot of highs and lows in my career dealing with stressful recalls of vehicles or beer," Pierce says. "But even through those tough days, I've come out on the other side having learned a lot, and as a result I can take what I learned yesterday and apply it to today."
Finding His Way Back Home
As Pierce continues to move forward in his career, no matter where he goes or what he does, he will never forget where it all began: MU. He stays tied to his alma mater by actively participating in the Motor City Tigers alumni chapter, maintaining relationships with former professors and guest speaking in various journalism classes on campus.
He has also been a football season ticket holder since the day he enrolled at MU in 1995, and he remains faithful to the Tigers by making the 10-hour drive from Novi, Michigan, to Columbia, Missouri, for every home game. And he doesn't plan on stopping anytime soon – even with a newborn daughter.
"There's a saying, and I think Sheryl Crow said it in one of the school's commercials, which is, 'While you may leave Mizzou, Mizzou will never leave you,'" Pierce says. "It's true."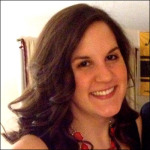 Maggie Hallam is a senior from St. Louis studying strategic communication. She will graduate in May 2015 with a bachelor of journalism, a minor in business and an honors certificate. During the summer of 2014, Hallam returned home to St. Louis to work as a social media intern at GROUP360 Worldwide. After graduation, she plans to pursue a career in public relations or advertising.
Updated: December 16, 2014