Darren Samuelsohn
Senior Energy and Environment Reporter at POLITICO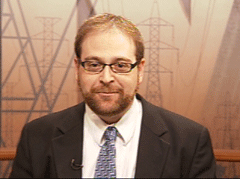 Degree(s): BJ '97 (News-Editorial)
Whereabouts: United States, Washington D.C.
What do you do?
I am the senior energy and environment reporter at POLITICO. I cover the White House, Congress, federal agencies, courts and just about any other avenue where my issues pop up. My time is mostly spent in the U.S. Capitol talking to lawmakers and staff or back in my office working the phones.
How did you get your job?
POLITICO recruited me in 2010 while looking to beef up their policy reporting team. I had spent about 10 years covering energy and environmental issues for E&E News and its many top-notch insider publications, including E&E Daily and Greenwire. That was great experience for the jump to POLITICO's own fast-paced newsroom.
What is the best professional lesson you learned at the J-School?
To grow up and be professional in my journalism. I remember being 18 years old at Missouri, an undergrad like most undergrads, interested in pretty much the same things as most undergrads. I wanted to be a journalist, though. The differences between my freshman and sophomore years, when I was not really involved in the J-School, and then my junior and senior years working at the Missourian were astounding. Responsibility. Meeting deadlines. Working with sources to get a story. Covering the MU football team. The ethics surrounding the profession. I value it all and wish I'd been a bit more attentive in those first few years. Well, not that attentive. It was fun.
What advice do you have for current students?
Once you're in the J-School, and you're pretty sure that's the direction you want to take with your life, don't quit. I remember the preliminary classes, the J200 (mass communication) and the J105 (news writing) courses, being quite painful, tedious and at times boring. Lots of people quit before those classes finished. I thought about it, too. But my father convinced me otherwise. And I'm glad I didn't. The experiences once in the J-School, in the Missourian in particular, get you ready for what it is like out here. To a degree, of course.
What is your favorite J-School memory?
Hard to beat the work I did at the Missourian in 1997 while covering the MU football team. My sports editor encouraged me to break off the daily grind and spend a month digging into a story about a defensive back who had a history of domestic violence problems. I tracked down three women willing to talk about their relationships to the football player. The story won three big awards: first Place in the Associated Press Sports Editor contest for feature writing at an under-50,000-circulation paper; first place in the William Randolph Hearst college newspaper contest; and first place for feature writing for all newspapers in Missouri from the Missouri Press Association.
Updated: November 10, 2011