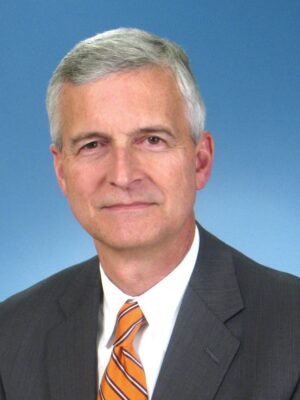 Degree(s): BJ '76 (Broadcast)
Whereabouts: United States, Des Moines, Iowa
Can you describe what a typical workday is like for you?
I get up early in the morning and start my day reading the online news. Then I watch the 5 a.m. morning newscast. I arrive at the station at 8:45 a.m. We have a 9:30 a.m. story meeting in the conference room where we make decisions about the news stories. Then throughout the day, I deal with a lot of issues and problems. It's a day of interruption. We also have meetings at 12:30 p.m. and 2:15 p.m. I watch the 5 p.m. and 6 p.m. newscasts, and I am out the door by 6:45 p.m.
What do you like best about your job?
A busy news day. It's exciting when there is a lot going on in the news. This is a really great job for a curious and restless person.
What do you like least about your job?
Having slow news days; every community has them. Des Moines, Iowa is a good news town, the state capital, a financial and political center, but there are slow days no matter where you work.
If you could change anything about broadcast news, what would it be?
We have to ensure a future economic model that supports sound journalism – and that means enough money to pay for having reporters out on the street generating original stories. Some weaker television and radio stations have cut their news staffs down to where it's tough to do that. They put out a news product, but it's little more than aggregating news from other sources. They can find a fire or a news conference, but do they send seasoned reporters out knocking on doors and finding original content? That's what we need to survive.
Is there any hope for good quality television news?
I'm very excited about the future of our business. The transition to high-definition is a wonderful development. Where else can you go to get beautiful high-definition pictures about local news, weather and sports in your community? You can't get that from your local newspaper and you can't get it online. One of the distinguishing characteristics about KCCI is our emphasis on quality storytelling. We're fortunate to have a staff of reporters and photographers who work well together in telling wonderful stories, whether it be breaking news or human interest. In addition to what we're doing on television, we have a bright future in the online and mobile journalism worlds. Strong local TV stations become a trusted source in those venues, too. That's a great opportunity for us.
What is it like working in Iowa Cyclone territory?
We probably have more Iowa State University grads than anybody else in the newsroom – due to proximity to Ames, Iowa. But I have my nefarious ways of sneaking in plenty of Mizzou grads. Every time I hire somebody from Mizzou, I get a lot of kidding from the non-Mizzou folks. But, everyone recognizes the quality that Mizzou students have when they come out. We currently have morning anchor Katie (Piper) Ward, weekend anchor Emily (Givens) Price, reporter Laura Nichols and several producers from Mizzou – so we're holding our own here in enemy territory.
What does the Missouri School of Journalism mean to you?
J-School means everything to me. They took a 20-year-old kid and made me into someone who could get a job in any newsroom. They really cared about the quality of journalism and preparing kids to find jobs. I have made a lot of friendships between faculty and students.
Do you have a favorite memory of the J-School that sticks out?
I was terrified the first night I went on the air at KBIA. I'm sure my voice sounded like a seven-year-old girl. I was just thrilled about being on the air.
Were there any J-School faculty or staff members who influenced you in any way?
Rod Gelatt, a former J-School professor, was so funny and smart. He taught me so much. I've always been deeply appreciative of what he did for me and other students.
What are your future career plans?
Having worked at KCCI since 1979, and since 1990 as news director, I envision finishing out my career here, at one of the great TV stations in the country.  I'm only the third news director since the station signed on the air in 1955.  Not a lot of stations can make that claim, if any.  I'm proud to have succeeded two strong news directors, Russ Van Dyke and Paul Rhoades, who taught me a lot.  This job is constantly changing and we face enormous challenges to remain a strong competitor in the future.  I look forward to that challenge.
What is your favorite major league baseball team?
I'm glad you asked! I am a die-hard St. Louis Cardinals fan. I keep up on them by reading the St. Louis Post-Dispatch every day.
Updated: November 3, 2011