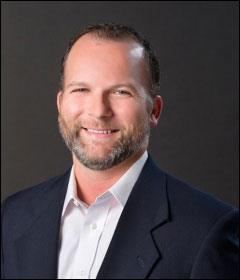 Degree(s): BJ '00
Whereabouts: United States, Columbia, Missouri
A month after Dave Matter, BJ '00, graduated from the University of Missouri, he sat in Quinton's Bar and Deli with Columbia Daily Tribune sports editor Kent Heitholt and sports reporter Jason Williams. The casual lunch turned into the biggest moment of his young life when Heitholt offered him the University of Missouri football beat for the Tribune.
"I about choked on my lunch," Matter says, "I knew Jason was leaving, but I had no idea what the lunch was for."
At the time, Matter had been working at the Tribune part time for two years, helping out every beat writer he could while simultaneously working on his journalism degree. He said his choice to join the staff full time was a no brainer.
"I didn't negotiate salary or anything. I was like, yeah, sign me up," Matter says.
Although he didn't realize it, that moment would decide Matter's career path for the next 16 years.
Playing for Two Teams
His two years of working part time for the Tribune while pursuing his bachelor's degree not only set up Matter's career path, but it also provided him with a different experience than other journalism students. Like all print journalism students, Matter worked at the Columbia Missourian.
"It was a baptism by fire," he says, "I mean, they just throw you in there, and you are expected to go out and cover area sports."
Because Matter took his first course at the Missourian over the summer, he was forced to get creative in looking for story ideas during the sports lull of summer. During the fall or spring semesters, students would get a schedule of sports events to cover and were sent on their way. But during the summer semester, with no high school or college sports teams playing, he was expected to find his own stories. It was a challenge, but Matter managed with the help of the Missourian faculty editors.
The following fall, with just a summer at the Missourian under his belt, Matter applied to work part time at the Tribune. Heitholt took a chance on him and turned him loose on any story he wanted.
The experience at the Tribune was a valuable one, but it changed his time at the Missourian as a student. To avoid the conflict of interest created by working for two competing newspapers, Matter couldn't report on any sports at the Missourian. Instead, he served as a copy editor, which gave him good experience in other areas around the newsroom.
Matter spent his days in both newsrooms. He write sports news at the Tribune. He did copyediting and headline writing for the Missourian, which exposed him to different kinds of news writing.
"I was getting paid over at the Tribune and taking classes at MU, so it was the best of both worlds," Matter says.
He continued his dual experience at both newsrooms for two years before accepting the full-time position at the Tribune.
Early Days at the Tribune
When football season kicked off, a 22-year-old Matter found he was competing against every seasoned reporter in town for stories and interviews on the MU football beat.
Matter says Heitholt was a great mentor and helped him transition into covering MU football his first year after college. He describes Heitholt as more of a dad away from home than boss to him.
"He would help you out with things that were so beyond work related. Car problems, girl trouble, anything you needed he was there for," Matter says.
Just 16 months after Matter had begun working full time at the Daily Tribune, he and the rest of the newspaper staff were devastated when Heitholt was murdered in the Tribune parking lot as he was leaving work late one night.
For Matter the beloved sports editor will always be the mentor who gave him opportunities and opened the door for a sports reporting career.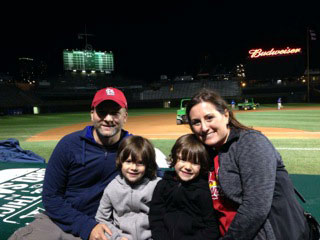 On-the-Job Knowledge
Matter continued covering MU football for the Tribune for 13 years. He says success at this beat comes down to creating good professional relationships and understanding what is going on with the team throughout the entire year, not just on the field but off the field as well.
"Off the field is where the job is made because anybody can go cover a game," Matter says. "The real news develops off the field."
Finding that off-the-field news, Matter says, comes from forming those working relationships and developing a rapport with the people he covers. Although he maintains boundaries for all of the relationships, earning people's trust and respect is important.
"You want to be personal, be respectful — but be a human being and see the people you cover as human beings, too," Matter says.
This mentality has made his job of covering the same college team for over 15 years much easier. When his job gets difficult and Matter needs to get somebody on the phone for a story, sources are more likely to answer if they respect his work. Matter describes creating and maintaining these working relationships as one of the biggest challenges of the job and something that mostly comes with longevity.
"It is the hidden secret of being a beat writer," he says. "You have to have relationships with people, and you have to use them to some degree, use their information to your readers' benefit."
The SEC Switch
These professional relationships helped Matter through one of the biggest changes in his beat coverage of MU athletics, which came in 2012 when the Tigers moved to the SEC. He had been writing about MU football for over 10 years, and now the game was changing.
Logistics were a major concern for Matter because he could no longer drive to most schools in the conference, but the biggest challenge he faced was all of the new teams he was now covering.
"You are just starting fresh with everything. I mean you still have your team and your school that you cover," Matter explains, "but everybody else is new, and that's exciting."
Overall, the experience has given Matter the chance to go to new places and meet new people. It's something he enjoys because one of his favorite parts of being a sports writer is meeting people with similar backgrounds and similar experiences.
"There's kind of a sense of camaraderie around the SEC writers that I don't think you see in other places, so that part I enjoy," he says.
It was just one year after MU joined the SEC that Matter got another offer he couldn't refuse, this time from the St. Louis Post-Dispatch.
Same Team, Different Paper
In 2013, Vahe Gregorian, MA '88 — a great friend and mentor of Matter — left his position as the MU beat writer for the Post-Dispatch. Soon after, the Post-Dispatch offered Matter the job. Although Matter's history at the Tribune made it difficult to leave, for him the decision was simple.
"I grew up in St. Louis. I grew up reading the Post-Dispatch. It's kind of the reason I got into sports writing," Matter explains.
Today, he covers all-things-MU-sports for the Post-Dispatch. Matter says switching to a bigger market and audience was only one part of the transition.
"At the Tribune, they do a great job of covering everything — but it's like a five-person team that does it, so you kind of have your lane," Matter says. "At the Post-Dispatch, I have all the lanes."
After the first year at his new job, Matter learned there simply wasn't time in the day or space in the paper for him to write every story he wanted to cover. He has learned to budget his time and energy, realizing that there are just some stories he can't get to. Always in constant motion as a reporter, Matter has learned to juggle many different stories at once.
Still Around
The constant jockeying for stories and the fierce competition in a town overflowing with student reporters has kept Matter's job in Columbia interesting for the past 16 years. Between the Post-Dispatch, the Kansas City Star, the Tribune and the Missourian, Matter says he's working with the best competition in the SEC — maybe even in all of college sports. And that competition here in Columbia is one of Matter's favorite things about his beat.
"There are good writers and good reporters everywhere that cover Missouri," Matter says.
Although the competition can make his job more stressful, he also says it's what makes it exciting, and after covering the same beat for so many years, Matter admits it can get boring and difficult.
He has dealt with the challenges of a college football and a basketball beat many times. When a team isn't doing well and players would rather not give interviews or if access for reporters shrinks, it can be difficult to handle. Matter combats these challenges by remembering that he is his reader's source of information about their favorite teams.
"You're still documenting history, and there's still an opportunity with every story to write a sentence that's never been written before," Matter says, "Sometimes you have to challenge yourself and create your own energy on the beat."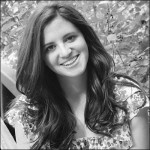 Elle Bausch graduated from the Missouri School of Journalism in May 2016 with a Bachelor of Journalism degree. While in school, her emphasis area was strategic communication with a focus on public relations. During her college career, Bausch interned at the Mall of America in Minneapolis and with the Minnesota Vikings. She will begin a graduate program in journalism at Northwestern University.
Updated: May 26, 2016