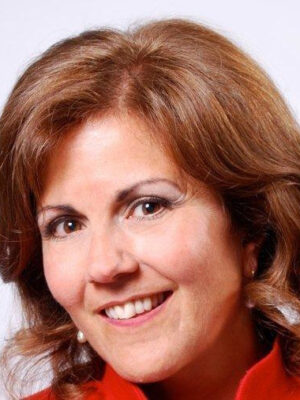 Degree(s): BJ '79
Whereabouts: United States, Kansas City, Missouri
Preparation for a Career in Broadcast Journalism
"You'll work so hard at broadcast and you'll be good, but you would be great in sales!" Not exactly the words broadcast news student Diane Campbell (O'Byrne) wanted to hear from her Missouri School of Journalism adviser and much-respected professor Dave Dugan. Little did O'Byrne know that Dugan had predicted what would be her future careers in media sales and sales training.
O'Byrne, BJ '79, knew she was going to be the next Barbara Walters when she was growing up in her hometown of Kansas City, Mo.
"I was going to take over the Today Show, and no one could tell me anything different," says O'Byrne.
From an early age, she had a strong interest in politics. She never wanted to be a politician but just wanted to thoroughly understand political operations.
"When Watergate happened, I knew I wanted to be someone to help uncover the inner workings," says O'Byrne.
With that goal in mind, she set up a plan to realize her dream by getting two bachelor's degrees from the University of Missouri: one in journalism with a concentration in broadcast news and the other in political science.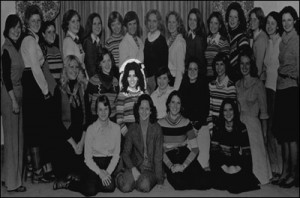 O'Byrne started reporting at KOMU, the school's NBC-affiliated broadcast station, during her junior year. She thrived under the guidance of her professors who had professional experience in the field. The station is the only university-owned network affiliate that uses its newsroom as a working lab for students. Students run the news operation.
"There's nothing like being at KOMU. You actually get to work for a real TV station," says O'Byrne. "The environment was real. It was competitive."
While at the station, she learned about the intensity of broadcast news deadlines and the value of getting the story "just right."
She also received a heartbreaking lesson in making sure the camera equipment and tapes function correctly. When O'Byrne's brother, John Campbell, was set to graduate from University of Missouri-Kansas City School of Law, the ceremony was to include a swearing-in ceremony before the Missouri Supreme Court in Jefferson City. O'Byrne, wanting to capture this special moment, convinced the judge to allow her to film the ceremony, which set a precedent. After filming, she rushed back to KOMU to meet her deadline, only to discover that she had installed the film incorrectly.
"Cameras finally allowed in the courtroom, but no footage," she says. "I absolutely wanted to die!"
Through experiences at KOMU, O'Byrne, like many other broadcast news students, got to build on and learn from such experiences before starting her first job. Her professors encouraged O'Byrne and taught her the discipline and professionalism she needed to succeed in the world of journalism. Dugan was integral to O'Byrne's learning.
Although working at the station kept O'Byrne busy, she still made time to participate in campus organizations. She was the news director of KCOU, the MU's student-run radio station, a part of the 1977 Homecoming court and president of the campus' Mortar Board chapter, a national honor society, among other activities.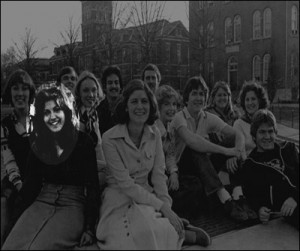 "I spent much of my college career going to meetings," she says.
During the summer between her junior and senior years, O'Byrne got an internship at KYTV-TV in Springfield, Ill. She worked covering the stories other reporters didn't want, like "cow chip throwing contests."
One day, none of the other reporters had arrived to the station yet. O'Byrne was sent out to report on a murder that was the result of a lover's triangle. She got the opportunity to interview the girl involved and privately congratulated herself on getting a great story. Then O'Byrne learned that the girl was severely harassed for talking to her because the people in the town thought it was indecent to air the town's business to the media. O'Byrne says this incident changed her career goals because she realized that although journalism could be good, it could also be damaging.
It's All About Business
WDAF in Kansas City offered O'Byrne her first job as an account executive for its radio station during her spring break in 1979, a few months before her graduation. Since she had grown up in the area, she was familiar with the station. After convincing WDAF to wait until she finished in May, O'Byrne set out to succeed by using a tool that she saw as her guide to success in sales: the local phonebook.
"I had all the accounts except the 1,000 accounts claimed by the other sales people who were actual advertisers," says O'Byrne.
This determination quickly helped her make the most sales during the month of July. Once she helped a local boats and motors store owner sell all the boats at his store, she knew she had made the right choice.
After two years at WDAF, her dedication to her clients and the WDAF radio staff landed O'Byrne a promotion to WDAF-TV. She was reluctant to leave radio because she loved that interaction with the smaller local businesses, but she decided it was best for her to move to television and begin working on bigger accounts.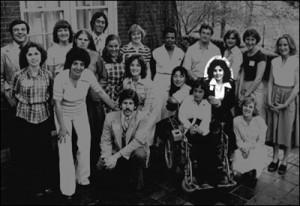 "I absolutely love sales, so for me it was never 9 a.m. to 5 p.m.," she says. "I would eat, sleep and breathe to try to help my clients find success."
She worked there for four years before returning to radio as the general sales manager at KCFX radio, the nation's first classic rock station.
As she advanced in her career, O'Byrne decided to attend Rockhurst University's executive management degree program and earned her MBA there in 1985. She says although her professors prepared her for many of the things she needed to know about management, none of the classes prepared her and her classmates for a career in sales.
"Ninety percent of people who graduate from programs like mine will have some responsibility for sales and yet the schools don't offer those classes," says O'Byrne.
Lessons Learned, Lessons Shared
In 1989, O'Byrne decided there was a distinct need for sales training for professionals and that her experiences qualified her to teach others. She founded Competitive Resources, a successful sales coaching firm based in Kansas City, Mo., to help businesses and individuals expand their selling potential and reach their sales goals. She firmly believes that everybody needs to know the basics of sales, even journalists, since the basics of sales are about persuasion, which journalists must use when pitching a story or contacting a source.
"It's all about business," says O'Byrne. "If you want to be marketable in today's business world, you must know something about sales."
O'Byrne taught sales techniques for professionals and students as an adjunct professor at the University of Kansas William Allen White School of Journalism and Mass Communication.  She also taught in the MBA program at KU in Lawrence.
When O'Byrne's daughter reached college age and was searching for the best school for her career goals, O'Byrne says she tried not to influence her. "We did the college tour from coast to coast," she says. Her daughter eventually decided the Missouri School of Journalism fit her best.
"We started exploring what she was really looking for in a university, and there was no question the Mizzou journalism school was the right choice!" says O'Byrne.
O'Byrne says her fondness for MU is due to the guidance and principles she learned here. She gives back to the MU community by participating as a member of the Griffith's Leadership Society, an alumni mentoring group for female students and graduates at the University of Missouri as well as serving on the KC Mizzou alumni board.
Updated: November 10, 2011