Emily Ann Brown
Director, Media and Analytics at Elasticity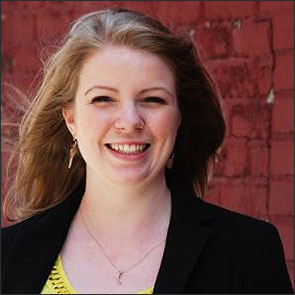 Degree(s): BJ '08
Whereabouts: United States, St. Louis, Missouri
When Emily Ann Brown, BJ '08, graduated from the Missouri School of Journalism, she had only the slightest understanding how significantly those formative four years would impact her life.
Now the director of media and analytics at Elasticity, an integrated marketing agency in St. Louis, Brown gives credit for her early career success to her education at the University of Missouri.
For Brown, MU's influence can be summed up into one word: life-changing. Every job she has gotten postgraduation has been related to her MU connections, while the friends she made during that time continue to be her close friends today. It's no wonder that when asked about the journalism school, Brown says she found her soul mate in a program.
In every respect, MU's influence has continued to grow for Brown, shaping her personal and professional lives profoundly. If it weren't for the professors she met, the classmates she worked alongside and the friends she made, Brown's life would look quite different than it does now.
From Music to Media Buys
When Brown first stepped on the MU campus to begin classes in the fall of 2004, she diverged from her expected path. Growing up in Atlanta in a family of professional musicians, Brown's decision to attend a journalism program nearly 700 miles away was anything but predictable.
But the decision was obvious to Brown. After deciding to study journalism, she made an official visit to MU during her junior year of high school. Immediately, she was certain it was where she belonged. Captivated by the picturesque campus and welcoming atmosphere, Brown felt like she could make MU her home for the next four years.
She originally thought she would study magazine journalism, but through conversations with other journalism students and professors, Brown soon realized the advertising and public relations taught in the strategic communication emphasis area better suited her personality.
With her family background in music, Brown appreciated the creative outlet the advertising industry offered. She originally identified account management as a potential career path, feeling it meshed well with her organized nature and ability to deal with many different personalities. However, Brown had a change of heart after meeting one of the School's adjunct instructors, Stephanie Padgett.
Brown had been eagerly seeking information about the different positions in MOJO Ad, the journalism school's student-staffed advertising agency. Padgett was working at MU as an executive on loan from Empower MediaMarketing, a Cincinnati-based media planning and buying agency. At MU, Padgett worked with the MOJO Ad media planners and researchers to help the agency staff create stronger campaigns that would resonate in the media.
Brown wanted a career where she didn't just look at numbers on a Microsoft Excel sheet every day, and Padgett showed her that media planning was much more than number crunching and analysis. Rather, it was about strategically placing advertisements in the media to reach the target audience most effectively.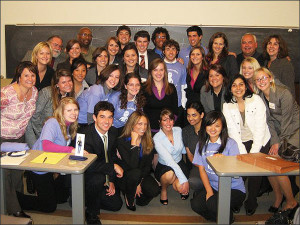 "She was the one who showed me that you could be in media and still be creative and innovative while collaborating with a lot of entities," Brown says.
As a naturally curious person, Brown loved that media planning allowed her to dig into consumer insights to influence the overall success of advertising campaigns. Deciding it was the career path she wanted to pursue after graduation, Brown applied and was selected as a media planner for the MOJO Ad staff.
MOJO Ad: Pushing the Bar for Expectations
When Brown began working for MOJO Ad, she didn't yet realize the impact it would have on her future. She worked as a media planner during both semesters of her senior year, creating campaigns for national clients such as Hallmark. Though Brown remembers it as hectic and time-consuming, she also says it was one of the best times of her life.
"I just remember being so incredibly busy but so incredibly excited to be a part of it that I get goose bumps thinking about it now," Brown says.
Professors expected perfection 100 percent of the time, and Brown soon learned to raise the bar to the highest level for what she expected of herself. Though she and her classmates in MOJO Ad may not have felt like they had all the answers, they had professors pushing them toward success.
Many friendships Brown made during her time working in MOJO Ad have proved to be lasting ones, and she still follows the careers of her former MOJO Ad classmates. Moreover, the professors she met through the agency set her up for career opportunities following graduation.
Beyond the lasting bonds she formed during her two semesters in MOJO Ad, Brown gained an entire year of relevant work experience she could share with potential employers. She knew firsthand the hard work and dedication it takes to succeed in the advertising industry. The confidence this gave Brown was invaluable as she interviewed for jobs during the spring of her senior year.
From MOJO Ad to Marketing Professional
Upon her graduation in May of 2008, Brown faced the feat of finding a job when the U.S. economy was in one of the worst recessions in American history. Few agencies in the Midwest were hiring, and advertising in general was on the downfall.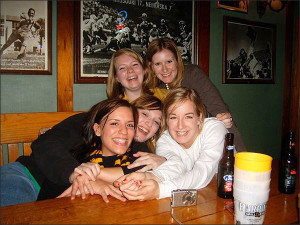 While the job market was rough, Brown experienced what it was like to have fellow Missouri journalism alumni and faculty behind her. She landed an interview with Empower MediaMarketing in Cincinnati thanks to her connection with Padgett, who was still working for the agency at the time.
Hired as part of the national media team, Brown soon became responsible for managing the TV schedules of advertising worth millions of dollars. Only a month out of college, she felt the weight of being handed so much responsibility very quickly.
"You're sitting there looking at a 30-second spot that is worth more than your year's salary and thinking 'Oh my gosh, I better not mess up!'" Brown laughs, thinking back to the high pressure of being a broadcast buying associate.
In 2011, Brown reached a pivotal point in her career. After becoming engaged to her now husband, Chris, the couple had to decide where they wanted to live before he took the bar exam upon his graduation from law school. Since his family lived in St. Louis, they decided to move to Missouri in order to be close to them, which meant Brown needed to leave her position at Empower.
She returned to her Missouri roots once more for her job search. For the second time, Padgett referred Brown to a job opportunity – this time, with True Media. Brown was hired as an account planner at True Media.
"The 'Mizzou Mafia' was always joked about in college and seemed like an interesting concept, but it is totally true," Brown says. "Every job that I have gotten post-graduation has been related back to my time at Mizzou."
That statement proved true even when she wasn't actively looking for a job. In 2014, a former Missouri journalism classmate and Empower MediaMarketing colleague reached out to Brown to recommend a new hire for Elasticity, a full-service marketing agency located in St. Louis.
Instead, Brown said she was interested in the position because it provided the opportunity to work alongside a creative team, which she had missed while working at media planning and buying agencies. She interviewed and was hired to start the paid media service offering at Elasticity.
Becoming Elastic
The decision to move to Elasticity was not an easy one, because it meant sacrificing the opportunity to work with Padgett, who had recently joined True Media's leadership team.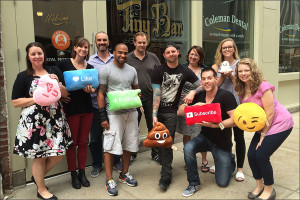 But Elasticity has given her the opportunity to be part of the entire creative process for the first time since working for MOJO Ad. As the director of media and analytics, Brown collaborates with content writers, designers and social media managers to advise them on the best media placements for creative content.
She works closely with the creative design team to present media opportunities they may not have considered from a design perspective. By educating the creative teams on why certain media work better for specific campaigns, Brown helps craft more effective creative content for Elasticity's clients.
Besides her more prominent role in the creative process, Brown says the agency culture makes working at Elasticity gratifying. Similar to MOJO Ad, Elasticity's staff is full of motivated professionals who are passionate about their jobs. What's more, they are a close-knit group of coworkers who spend time together outside of work.
Surrounded by supportive, talented professionals, Brown has found a role in Elasticity that fits her creative personality and media expertise.
MU's Undeniable Influence
While Brown's MU connections have been crucial to her professional success, her years at MU were significant for her personal life, as well. It's where she met her husband when they were freshman living in the same residence hall. It's also where she became close friends with several women from that same residence hall, and the group is planning a trip together to New Orleans to celebrate their 30th birthdays.
A loyal Tigers fan, Brown returns for football games with her husband each season. She also makes a point to come back for the True/False Film Festival, Columbia's annual documentary film festival, which she enjoyed attending while she was a student.
"Although Mizzou holds a very important role in my past, it's very much a part of my present and future, too," Brown says. "Mizzou will always hold a special place in my heart as the place that launched me into a life and career that I love."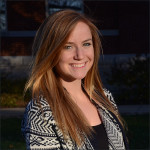 About the Author: Bridget Brady is a senior strategic communication major and business minor. She is from Geneva, Illinois. Brady worked as a public relations intern at Sequel UK in London through Missouri School of Journalism Global Programs. She also has had marketing internships at the Boys & Girls Clubs of Columbia and the "We Always Swing" Jazz Series. Brady plans to pursue a career in public relations after graduating in May 2016.
Updated: October 22, 2020