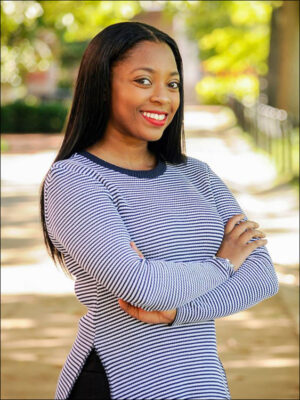 Degree(s): BJ '17
Whereabouts: United States, California
Missouri School of Journalism alum Erin Ceaser thrives at Amazon Studios, looks back fondly on time at MU
By Jerry Duggan
Erin Ceaser (BJ '17) has been very successful during her time at Amazon Studios in Los Angeles, spending two years as a member of the publicity and events team before being promoted to events manager. As part of this role, she helps handle the event aspects of press campaigns for upcoming TV shows and movies. To generate buzz for the programs, Ceaser plans events with the goal of attracting as many press as possible.
Still, she learned many of her fundamental lessons about hard work and persistence during her time as an undergrad at the University of Missouri. By March of her junior year, Ceaser had applied for more than 50 internships in strategic communication-related fields, mostly within the entertainment industry. When none of these efforts yielded an internship, Ceaser took matters into her own hands and personally reached out to nearly every member of the Amazon public relations team.
Ceaser expected nothing from this last-ditch effort to find something for the summer, but instead got responses from many members of Amazon's team. Eventually, Ceaser was given the opportunity to interview for a summer internship, and she so impressed Amazon that the company created a separate summer internship position for her since they had already filled all of their spots.
Her experience with Amazon helped her create the mantra Ceaser lives by to this day: "Work hard and be in constant pursuit of your goals. Do whatever it takes to achieve them, and don't settle."
Ceaser grew up in the suburbs of Chicago and from a young age wanted to end up in the entertainment industry in Los Angeles. Always interested in celebrity culture, her childhood bedroom was lined with Justin Bieber posters. She had originally aspired to be in front of the camera as a reporter or host. However, upon her arrival at MU, she discovered that she preferred the more behind-the-scenes side of the entertainment industry.
The Missouri School of Journalism's strategic communication program was a perfect match for that interest because it helped Ceasar understand the business side of the entertainment industry, such as how on-air talent is chosen.
A testament to her work ethic, Ceaser completed her undergraduate degree in just three years after arriving on campus in August 2014. While pursuing her degree, she worked full time as an ophthalmic technician, an assistant to eye surgeons. Although many would be overwhelmed by such a busy schedule, Ceaser says it taught her a lot. "Because I worked full time as a student, I was able to compartmentalize and manage my time really well," she said. "Also, my work at the hospital gave me experience communicating with so many different types of people, and I think that also benefited me in the long run."
Ceaser applied that same work ethic to her internship and job search. After she landed a summer gig at Amazon studios, she only continued to overachieve. She impressed her Amazon colleagues and superiors so much that, at the end of her summer internship, she was offered a fulltime job with the company.
Although Ceaser has what she considers her dream job due to the hard work she put into the process, she also believes in the importance of developing relationships while in college. "I was able to graduate in three years, but feel like I could have spent more time nurturing my relationships with professors and classmates," she said. "It's easy to find people at MU willing to support you and your goals, and you can't overstate the importance of the network you can build while a student there."
Updated: February 12, 2020