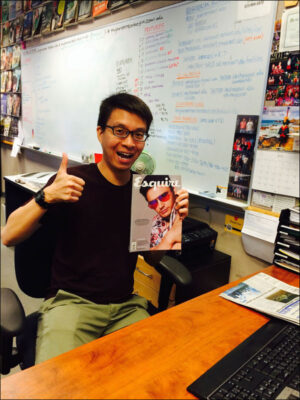 Degree(s): BJ '07
Whereabouts: Malaysia, Petaling Jaya
Student editor Eugene Phua sweats over the next issue of Vox Magazine in a mostly dark Lee Hills Hall. There aren't enough quality visuals to go with the stories, and he needs to figure out how to fill the space. Adjusting all of the page layouts – a time-consuming task – seems to be the only solution. By midnight Phua makes his final changes, turns out the light and heads home.
Phua, a magazine journalism student, didn't realize at the time how this attention to detail would pay off. Six years later, he was named the managing editor of Esquire Malaysia magazine.
Beginning Studies at Missouri
Phua thought he wanted to study computer science when he graduated from high school. He enrolled in INTI International University in his hometown of Petaling Jaya, Malaysia, and took several occupational placement tests. When these revealed his aptitude for communication, a counselor suggested Phua study journalism. INTI had an exchange program with the University of Missouri. Phua had heard great things about its School of Journalism and decided to enroll.
"My first journalism experience was for J2100, the first journalism class students take at the J-School," Phua says. "I had to interview a classmate and write a profile on her. It wasn't like a live-fire assignment, and it was a little more simulated. But it was still daunting. That class was a good boot camp for journalism."
Phua also had to adjust to living on his own, learning how to do laundry, pay bills, balance his bank accounts and cook.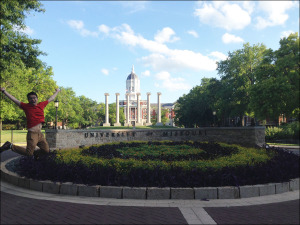 "The adjustment was certainly tough," Phua says. "Thankfully, I think my brain is just wired to get stuff done though, so I adjusted."
Learning Magazine Journalism
Phua attributes all of his success to the skills he learned at the School. At Vox he learned how to manage an editorial position, the mechanics of writing and grammar, the knowledge of how to work in a newsroom and how to produce a story from concept to publication.
"I could not have asked for a better experience," Phua says. "A lot of my colleagues didn't come from writing backgrounds or even journalism backgrounds. Sometimes they don't know the disciplines that I take for granted. In that regard, learning leadership certainly helped as well. Because of these things, I still say I started my journalism career at Vox."
"I still say I started my journalism career at Vox," Phua says.
Phua knew he would need to dedicate Monday nights to finishing the week's issue of Vox, but but he would often spend several other nights at the magazine as well. Vox was his priority, sometimes to the detriment of his other classes.
"There was one time when I had a paper due the next day for a history class of some sort, but Vox was due to come out the same day," Phua says. "I just had to not do the paper because I just didn't have time to get that and the issue put together."
Some missed assignments didn't stop Phua from graduating magna cum laude in December 2007 with a bachelor of journalism degree in magazine journalism.
Returning Home
Phua moved back to Malaysia after graduation and was offered a job at FHM Malaysia. The award-winning men's lifestyle magazine features articles on music, fitness and new technologies. Its U.S. equivalent is Playboy magazine.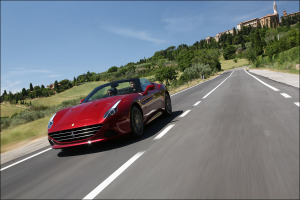 "A lot of people thought I accepted a job with FHM because of the girls, but that is completely not true," Phua says. "I took this job because I thought I would get to utilize my skills I learned at Vox."
Phua began to apply what he calls the "discipline of the process" at FHM Malaysia. It is a means of thinking through all aspects of production, from idea conception all the way to printing a product.
"I'm very much the hands-on guy," Phua says. "I make sure all the files come in. I make sure the pages are done. I make sure the photos are in. I make sure colleagues gets their stuff in. I want to personally make sure things go smoothly."
Three years later, Phua decided he wanted to pursue a career elsewhere. His time at FHM included variety of management changes, some of which affected his duties and responsibilities. Phua began freelancing for a variety of publications, including a 3,000-word feature for Esquire Malaysia. One of the editors was so impressed with this article that he asked Phua if he'd like to join the magazine full time. Phua accepted and became a deputy editor for Esquire Malaysia in May 2012.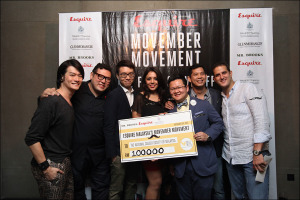 Editing Esquire Malaysia
Esquire Malaysia wants to do things that no one else in the country does.
"One of our brand values is 'disruptive,'" Phua says. "We do things that are hard-hitting and that are daring."
Phua says both his biggest disappointment and his biggest reward occurred in an issue on cyber surveillance. The magazine profiled two sex bloggers, a Malaysian couple named Alvin and Vivian, otherwise known as Alvivi. This article upset many of Esquire Malaysia's conservative readers.
"Here at Esquire, one of our brand values is 'disruptive,'" Phua says. "We want to do things that are hard-hitting and that are daring."
"Everybody took to social media and was like, 'How could Esquire do this? They're immoral. I'm not reading Esquire anymore.' But no one actually read the profile I wrote," Phua says. "I tried to show that, at the end of the day, they're just a couple that loves each other very much, just in a very weird way."
Reader response was one indication of success, according to Phua.
"The fact that everyone felt our brand value of 'disruptive' meant it was a success to me," he says.
Phua further embodied this sense of adventure by showing the armpits of women in photographs, something frowned on in Malaysia. In the August 2014 issue, actress Cameron Diaz was shown in a swimsuit, posed with her arms above her head and her armpits completely exposed.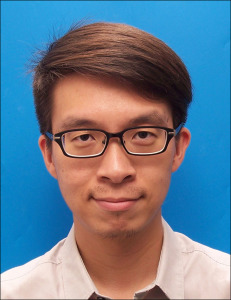 "We didn't really ask permission," Phua says. "We just kind of did it because that's what we wanted to do. I wouldn't be surprised if we get a letter from the Home Ministry over it."
Phua has worked with some of his favorite celebrities during his time at Esquire Malaysia. Once he did a phone interview with Tegan from the rock/indie pop duo Tegan and Sara, who have over one million likes on their Facebook page.
"I am a big fan, and let me tell you, it was very hard to remain professional for that one," Phua says.
Phua also experiences other job perks. He has driven a Peugeot in France and a Ferrari in Italy. He was invited to review a resort in Japan. Phua encourages his colleagues to go on these outings in his place. He often gets called the "drill sergeant" because he prefers to stay in the office and personally make sure the magazine is put together.
This focus on work earned Phua a promotion from deputy editor to managing editor of Esquire Malaysia in May of 2013. Phua helps in all stages of the production process of issues, as well as hosting marketing events, representing Esquire during media interviews and managing the internship program.
Looking to the Future
At some point in the future, Phua plans to share his real-world journalism experience with journalism students at a Malaysian college or university.
"Then maybe I'll go back to Mizzou and learn how to teach. That way I can come back to Malaysia and teach journalism the Mizzou way, which is going out there, doing real work and learning the discipline of the process," Phua said. "Malaysian journalism could stand to be a lot better, and striving to do things like the Mizzou journalism school is striving for the best."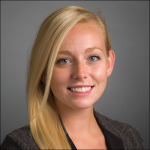 Maggie Hardwick, a senior from Salisbury, Missouri, is studying science and agricultural journalism, with minors in agricultural economics, leadership in agriculture and psychology. She has held internships with Van Leuven Communications, Cargill and FMC Corporation. Hardwick plans to work in beef sales for Cargill Meat Solutions after graduation in May 2015.
Updated: December 16, 2014