Gene Hartley
Online News Producer at KY3 TV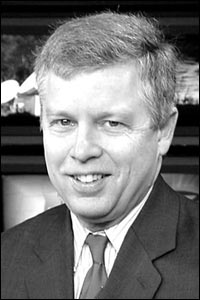 Degree(s): BJ '77, MA '79
Whereabouts: United States, Springfield, Missouri
Describe your television station and what makes it an interesting place to work.
It's the top-rated news station in Springfield and has been for most of its 50 years. Employees tend to stay quite a while; they care about each other and doing quality work, as well as offering good community service.
Best professional lesson learned at the J-School?
Don't give up when trying to succeed. Be skeptical of the first answer you get; when you want something, it doesn't hurt to ask — all someone can say is no.
What is your favorite J-School memory?
In below freezing temperatures, we covered the inauguration of Gov. Joe Teasdale in January 1977 on the lawn of the capitol and our camera batteries kept dying.
What are you working on currently?
I'm the first and only online news producer the station has had since it started putting news on its website in 1997.
What would be your best advice to current students?
Learn to write well for all media. Spell well and be flexible with the job and skills you learn. Also, don't expect journalism to be a vehicle to stardom.
What do you consider to be your greatest professional achievement?
Providing calming, steady advice to young reporters who are impatient for "the big time" or think going to a bigger market will solve all their problems.
What is your secret to success?
Perseverance, loyalty to employer and adaptability.
What makes you good at your job?
I'm a self-starter; I don't require a lot of supervision. In addition, I adapt well to changing work environments and expectations.
What is one thing you wished you could have done?
I wish I would have maintained closer contact with past co-workers and classmates, rather than seeing them as past relationships.
Updated: November 7, 2011