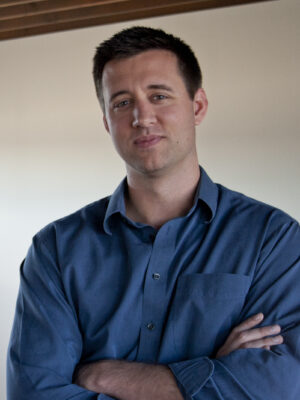 Degree(s): BJ '02
Whereabouts: United States, St. Louis, Missouri
What do you do at your job as a creative director?
My job is to get the most interesting and effective ideas produced.
What do you enjoy most about your job?
The constant stimulus; chasing the unknown is invigorating and rewarding.
What has been your greatest professional challenge?
Getting a job. My first job came after a year of constant interviewing all over the country and in the U.K. Looking back, it was great exposure, but try telling that to someone who's not sure when he'll get hired.
How did you get started in your career?
I started as an intern at what was then Barkley Evergreen & Partners. (You know you're getting up there when places you've worked have either changed their names or no longer exist. Check and check.) It wouldn't be until a full year later that I would get my name on a business card from the very same office. But if it hadn't been for the internship, I wouldn't have gotten a job there or anywhere else. Nothing beats practical experience. Being around top-tier professionals on a daily basis, I saw a high level of creative thinking and got a closer look at what would be expected of me when I graduated. Yikes.
How did you end up at HLK?
After almost four years at Barkley, I moved on to Rodgers Townsend, an amazing agency in St. Louis. Then, I got a call from the Executive Creative Director at Waylon, Joe Leahy. I still have the voice message saved. Good thing because it would come in handy later. Joe asked if I'd be interested in working at his agency. I didn't know a ton about it, but I knew they did work for The St. Louis Cardinals and a few other exciting clients. I decided I could get some much-needed television experience there and went for it. I learned a ton from Joe, went to Spring Training, built a decent TV reel and met my future wife. (Those milestones are listed in reverse order of importance, in case you're wondering.) From there, I moved on to Hoffman Lewis and produced more TV, helped win new business and created a decent amount of interactive work on my way to becoming an associate creative director. That's when Joe's voice message from five years earlier came to mind. By this time, he had moved on to Hughes Leahy Karlovic. You may recognize his name in the middle there. Joe had moved on and built up a substantial creative department at an agency called Hughes that had been around for over thirty years. And they rewarded him by putting his name on the door. Wait, another agency changing its name? Yeesh. But with more responsibility, Joe needed someone to take on more of the creative direction duties. So, that's where I am now. After joining HLK, we quickly brought on the 2011 World-Champion St. Louis Cardinals and Mobile On The Run. And we're producing better and better work for our existing clients, including Monsanto, the Missouri Wine and Grape Board and 901 Tequila to name a few.
What personal characteristics must a person have to succeed as a creative director?
Not sure I've succeeded just yet. But I've learned from a lot of creative directors. From what I can tell, a successful creative director is a strong teammate. Someone who accepts responsibility and distributes credit. A successful creative director is a natural listener and a collaborative spirit. Someone who possesses both confidence and humility. And it may not qualify as a personal characteristic, but a successful creative director has the superhuman power of simplifying.
Who do you look up to most in your profession?
Too many to name. Most of them are art directors. But believe it or not, it takes a lot of people to produce something great. (And unfortunately sometimes it only takes one to royally jack it up.) But I tend to admire the people who keep the end audience in mind while doing their jobs.
How has your education at the Missouri School of Journalism helped you in your career?
At first, I thought the writing background helped. And certainly, it did. But writing takes practice. The fundamentals of writing, though, are established in school. And learning how to logically construct a thought or rationalize an idea has stayed with me throughout my career.
What is one thing someone might not know about you?
I drive around with a bike rack on my car and don't own a bike. Oh great, now it's out there.
Any advice for students interested in becoming a copywriter?
Find out what people think is good advertising. Read the Communications Arts publications. Get a copy of The One Show. Don't just watch the crap you see on TV and think you can do that. Of course you can. Seek out the best of advertising and challenge yourself to top it. And do it relentlessly.
Updated: January 6, 2012