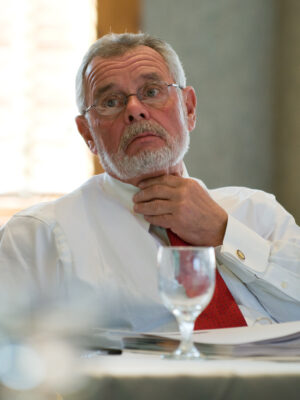 Degree(s): BJ '65
Whereabouts: United States, Hot Springs, Arkansas
Before James Zahnd was old enough to drive or legally vote, he was publishing his own newspaper from his boyhood home in Savannah, Mo. The 1950s television series "The Big Story," provided content for this aspiring writer's newspaper. At the age of 10, Zahnd would sit in front of his television set, writing articles about that evening's "Big Story." The appropriately named "Zahnd Gazette" newspaper was usually small in size and short on content but represented the beginnings of a lifelong interest in writing.
By the time Zahnd arrived at the Missouri School of Journalism in the winter of 1964, he was already a college graduate, having earned a history degree from William Jewell College in Liberty, Mo.
"At William Jewell, I did as much with journalism as I could," Zahnd said. "One of my professors, Dr. Georgia Bowman, BJ '37, was a Mizzou graduate, and she recognized some ability in me and encouraged me a lot to continue my education at her alma mater."
During the winter of 1964, the country was facing an uncertain future, with the recent assassination of President John F. Kennedy and the impending war in Vietnam. Zahnd used a student deferment to delay military service and focused instead on his expanding interest in journalism.
Zahnd studied at Mizzou for one semester, but he left Columbia to spend the summer and fall of 1964 working for his hometown newspaper, the Savannah (Mo.) Reporter & Andrew County Democrat. Missouri School of Journalism alum and newspaper editor, S.E. "Ed" Lee, BJ '41, taught Zahnd the ins and outs of the newspaper business and mentored the young journalist.
Upon his return to Mizzou, Zahnd immersed himself in the never-ending news cycle of the Columbia Missourian. Like many journalism students, he wore many hats, working as a reporter, copy assistant and editor. Zahnd credits his three semesters in Columbia with laying the foundation for his understanding of good, tight writing. With these skills, he achieved professional success as a writer and editor.
Seizing an Opportunity in Public Relations
The newsroom proved not to be Zahnd's calling. Instead, a chance encounter at William Jewell's 1965 homecoming steered him down a new career path. He had returned to campus to visit friends and happened to run into an old acquaintance, John Barth. Barth served as the college's director of public relations and had graduated from college with one of Zahnd's brothers. A brief conversation at the campus quadrangle eventually turned into a job offer. Zahnd mentioned that he was unemployed and recent graduate of the Missouri School of Journalism. Coincidentally, Barth needed someone of Zahnd's qualifications to replace the director of William Jewell's news bureau, who was soon to take maternity leave. The timing couldn't have been better, and Barth offered Zahnd the temporary position.
The job offer didn't come without obstacles. At the time, Zahnd faced the certainty of active duty and the possibility of military service in Vietnam. "I had the military in front of me. I had joined an Army Reserve Unit, but they told me it was going to be some time before I did my basic training," Zahnd said. "I told John, I would love to take the job, it sounds like a great experience, but I can't promise you that I will be here four weeks or four months."
Six months later he finally received his active duty notice and was called to basic training in Fort Lewis, Wash. By then the director of William Jewell's news bureau had resigned to be a stay-at-home mom. Zahnd made such a solid impression with his new boss that Barth ensured a full-time job awaited Zahnd's return from basic training.
The call to Vietnam would never come, but the call to service in higher education did, as Zahnd began a 19-year career in public relations at four different colleges, including William Jewell College; Kansas City University of Medicine and Biosciences; Simpson College in Indianola, Iowa; and the University of Missouri-Kansas City.
Planting a Career in Iowa
In a place where rows of corn stretch as far as the setting sun and Hollywood movie producers turn a farmer's field into a field of dreams, Zahnd planted his own public relations career in Iowa.
Zahnd and his wife Judith, who also earned a degree from MU, a bachelor's in education in 1968, fell in love with Iowa during his five-year tenure as director of public relations at Simpson College, a small, private school in Indianola, approximately 15 miles south of Des Moines. Their first and only child was born at Iowa Methodist Medical Center in Des Moines. Coincidentally, in 1984, while Zahnd was serving as director of university communications at the University of Missouri-Kansas City, he received a job opportunity as the hospital's vice president of community affairs.
"I was working in Kansas City and got a call from a headhunter. I wasn't looking for a job, but it ended up being at the hospital where my daughter was born and the rest they say is history," Zahnd said.
That history includes seven years with Iowa Methodist, before a newly formed interest in government relations and an old friend from William Jewell College, U.S. Congressman Tom Coleman of Missouri, presented Zahnd with yet another career decision. Coleman asked Zahnd to be his chief of staff in Washington D.C.
"I had always wanted to work in Washington," Zahnd said. "I always had a bit of a political bug in me."
The political bug arose from years of volunteering in politics. He worked a number of Coleman's campaigns, helping organize campaign volunteers and rallies. Zahnd knew the congressman and his congressional district well, and the chief of staff position suited Zahnd's management and public relations skills.
He eventually accepted the chief of staff position and spent three years in Washington D.C. But when Coleman lost his re-election bid in 1992, Zahnd was out of a job. He lacked a strong desire to stay in Washington, and along with his wife, yearned to return to their Midwestern roots. Their daughter was attending Marquette University in Milwaukee, Wis., and family ties remained strong in Missouri. And like twice before, a new job opportunity would bring the Zahnds to Iowa.
In the 1990s, national health care reform efforts were underway, and independent hospitals began a movement towards systemization. Iowa Methodist Medical Center was about to become a part of the newly formed Iowa Health System, and Zahnd's old boss wanted Zahnd to lead the system's public relations efforts for the new company.
Growing Iowa Health System from the Ground Up
Iowa Health System formed in 1995 as Iowa's first and largest integrated health care system. The system would eventually include hospitals in seven of Iowa's biggest cities and 14 rural communities, as well as group practices of physicians and clinics in 71 communities in Iowa, Illinois and Nebraska. Overnight, Iowa Health System became one of the state's largest employers and providers of quality health care.
Building a corporate image for Iowa Health System fell under the responsibility of Zahnd. Unlike any job he held before, there was no blueprint to follow.
"The individual hospitals all had a long history, but the organization itself was brand new," Zahnd said. "We had a clean slate to develop a corporate brand and that was very challenging and very rewarding."
Zahnd's strategy included building off the heritage of Iowa Health System's member hospitals. Many of these hospitals had been staples of their communities for decades. The idea of a health system would not work without widespread community support, so Zahnd and corporate executives attempted to establish a preeminent presence throughout the state.
"Tactically, we tried to be everywhere we could," Zahnd said. "We used advertising and the media and a lot of different strategies. If there was a meeting we were there and if there was an event, we were involved with it."
For 12 years, Zahnd developed the Iowa Health System brand. At the time of his retirement in 2006, the organization served the health care needs of one in every three patients in Iowa, and the corporate image for Iowa Health System was recognized across the state and the country. Community leaders turned to Iowa Health System's administration for leadership and expertise, meanwhile federal and state legislators relied on these same health care leaders for guidance in shaping new legislation.
Reuniting with Missouri School of Journalism
Today, reflection brings upon a sense of accomplishment. Zahnd says with every new job came new opportunities to introduce quality public relations at organizations that lacked programs or well-disciplined programs. And like the Iowa cornfield, he always liked plowing new ground, using his education from the Missouri School of Journalism as the seed of a 40-year public relations career.
When it came time to retire in 2006, Zahnd and his wife moved to Hot Springs Village, Ark., to be closer to their only daughter, son-in-law and three grandchildren. Zahnd says close family ties made for an easy decision in following their daughter and her family to Arkansas.
Zahnd's proximity to Missouri allowed him to return to Columbia in September 2008 for the centennial/dedication celebration of the Missouri School of Journalism and the Donald W. Reynolds Journalism Institute. Ed Lee, his mentor from the Savannah Reporter & Andrew County Democrat, was inducted posthumously into the Missouri Press Association Hall of Fame. The opportunity presented Zahnd a chance to honor his mentor, while reacquainting himself with a school that put him on the path to public relations success.
Updated: November 15, 2011