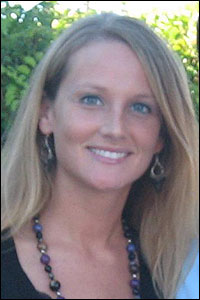 Degree(s): BJ '03 (Advertising)
Whereabouts: United States, Kansas City, Missouri
What do you do?
My career has been pretty exciting since graduating now (gasp) eight years ago?! I worked at VML from 2003-2006, then did a stint in pharmaceutical sales for a year until I was recruited to work for Handmark, a mobile media company based in Kansas City, by an old boss of mine from VML. I was the marketing director at Handmark through the launch of that crazy thing we call the iPhone, the Android platform, and really mobile becoming a communication medium – until March 2011, when I started in product management/marketing at Hallmark Cards, Inc. (headquartered in KC as well). I absolutely love it!
What advantages has your Missouri Journalism education given you?
The MU connection was a great starting point in speaking with potential employers when I was first looking for a job. The School of Journalism is well known for the great education it provides and the caliber of students accepted into the program. The classes I took at the J-School were a great foundation for my career, but what I felt has helped me even more were the high standards that were set by my professors. The curriculum and work ethic taught are equally important. Advertising is a fast paced, high-pressure world. I felt like I was well prepared coming in.
How did you land your first job working at VML?
I first visited VML on an Advertising Club trip to Kansas City. I am from St. Louis, so I never envisioned living here, but after leaving VML on that initial visit, I knew this is where I wanted to work.
What challenges did you face in your job search? What was the interviewing process like? What troubles did you face? What went well for you?
Challenges: I did not intern during college because I studied abroad over the summer, which I would not change for anything else in the world. This put me a little behind my peers with no experience, so it was a challenge for me to figure out exactly what I wanted to do after school; start a full-time job, get my master's, intern, etc.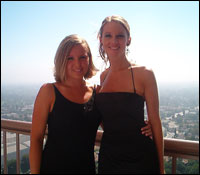 What was your first job search like?
After the Ad Club trip I kept in close contact with the human resources director at VML. That gave me the opportunity to intern over the winter break of my senior year. I then kept in touch with all of my new contacts as well as HR and expressed my interest in returning after I graduated. I was offered a full-time internship the summer after I graduated, which lead into a full-time position in account management later that summer.
What has gone well for you?
Networking is key! Keeping in touch with all of my contacts at VML enabled me to stay top-of-mind when they were choosing candidates. Once you get out of school you realize your goals are ever-changing, your life can lead you in any direction. VML has been a great place for me to grow professionally, and I am grateful for the opportunities I've had here. Time has gone by so fast, who knows where I'll be in 10 years!
Since you have been through the rigorous interview process, what are some key resume and interview tips you can give to current J-School students?
Be prepared and know your audience. Realize that your potential employer has a hectic schedule, and appreciate that they are taking time out of their day to meet with you. Always send a follow-up note (e-mail and handwritten) as quickly as possible afterwards. Also, be as professional as possible, which will help you stand out from your peers who are also just graduating with little experience. At the same time, be yourself. Realize how you position yourself is what will be expected of you once and if you are hired. Always have a cover letter and do your research, know whom you're interviewing with, what they do, all the details to ensure you even know how to pronounce and spell their names. The receptionists or administrative assistants are a great resource, call ahead and ask questions when appropriate. MU has a great career center that was very helpful to me in preparing my resumes, cover letters, and practicing my interviews. I would strongly suggest taking one of their classes and obtaining their feedback before sending out any resumes.
What do you remember about those first few weeks and months in your first job?
During the first few weeks and months of course I was excited, overwhelmed, and it was just a whirlwind. In a matter of weeks you move from a student to a "professional" and people have new expectations of you. I just remember thinking, "This is so cool," and at the same time, "What have I gotten myself into!"
What has been your greatest professional challenge so far?
My greatest professional challenge is hard to pinpoint, as I have new ones every day. Realizing that you are continually learning, you are not always going to be right – and will sometimes even fail – are great lessons. Sometimes sitting back and listening to others (instead of following your instinct to think you have all the answers) can lead to the best results. I am very fortunate to be surrounded by great people, amazing clients and exceptional supervisors that I continue to learn from every day.
What is your view of advertising now that you've been working in the field a few years?
Some of my fondest memories at the J-School were listening to the stories of real-world experience from my professors. You still have no idea what to expect until you're actually living it. All I can say is don't believe what you see in the movies, but it is a truly incredible industry. It's very fast, competitive and ever-changing, guaranteed to never be boring!
What is it like transitioning from college to the real world?
Although I had been working since I was 15, that first full-time job was quite a different workday to adjust to. You realize that your world has changed a lot, and you are the only one responsible for yourself, your actions and your future. While liberating, it can sometimes be overwhelming. But just take it one day at a time. I am nostalgic of my days at MU, but you realize you are lucky to have the memories, and it's always fun to go back for Homecoming and to see friends.
What personal characteristics do you think someone should have in order to be successful in advertising?
What I'm learning to realize is that it takes all personalities in order to succeed. While some characteristics are stereotyped in the ad field (dominating, aggressive, persuasive, creative, etc.) everyone cannot be a "cook." To get the job done you have to have leaders and followers. It also depends on what department or specialty you desire. What we need in account management is much different than that of research or creative. To grow professionally it is a merger of what you learned in class, your extracurricular activities, your career training and what you learn from others. Don't try to be someone you're not, but there's always likely room for improvement or a peer who you can learn from to be more effective.
What is your advice for students interested in a career like yours?
Life is too short; if you want something, go for it! There is nothing that can stand in your way. All you have to do is try. Be persistent and genuine; if you are passionate, people will recognize that in you. Don't let anyone else's path guide you, and don't be restricted by "rules" for moving up the ladder. If they tell you "usually…" or "we always…," be the exception! You have your entire life ahead of you, be excited (not overwhelmed) about the opportunities that lie ahead.
Updated: November 4, 2011