Jay Dade
Lawyer; Past President of the Mizzou Alumni Association; Trustee, MU Jefferson Club; Trustee at Polsinelli P.C. Law Firm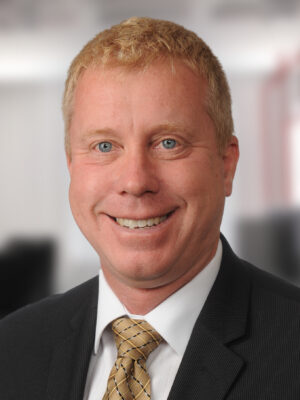 Degree(s): BJ '85, JD '93
Whereabouts: United States, Rogersville, Missouri
What do you do?
I am currently a shareholder in the law firm of Polsinelli P.C. in the firm's Springfield, Mo. office. I've focused my practice on management-side labor and employment relations law. As such, I counsel clients on a broad array of day-to-day personnel management and union-management issues. I also provide management training programs in the areas of sexual harassment, drug and alcohol policies, labor relations and general personnel administration.
Why did you switch from journalism to law?
After I worked in magazine editorial production for several years in Atlanta, Ga., I began considering returning to school for post-graduate work. I looked at all of my options, including business school, medical school, etc. Eventually, I began looking at law school. It seemed like the better fit for me. The Missouri School of Journalism requires its students to acquire a very broad-based liberal arts education as groundwork for their J-School education. Well, law school is almost a perfect post-graduate option within that liberal arts framework.
How has your journalism background helped you in being a successful lawyer?
My journalism background has been invaluable to my law practice. It provided me with witness interviewing, analytical and writing skills which I believe are unmatched by any other pre-law education and/or training. In addition, I have been fortunate throughout my practice to represent media organizations from time to time, and I can utilize my own journalism background to better assist these clients with their needs.
What is the best professional lesson you learned at the J-School?
Whatever it is, your work product bears your name, and your name is only as good as that work product. You usually only get one chance to get the story right, so you need to take care to get it right the first time. Also, every face tells a story. Your job is to weave those stories into the fabric of truth. While that may sound simplistic, when you distill the art of reporting on the human experience as well as a lawyer's representation of his or her clients to their basic terms, you cannot honestly describe those responsibilities differently.
What is your favorite J-School memory?
I was able to work at The Missourian during a Christmas interim. All in all, I spent almost five weeks doing nothing else but working at the paper, just like a full-time job. There were no other on-campus distractions. That opportunity gave me a taste of functioning as a working journalist. I can think of no other way to hone your craft than to immerse yourself totally into it. I was fortunate enough to have that opportunity.
What was your favorite class in college? Why?
I have to answer this in two parts. First, my favorite undergraduate class was Econ 51 with Professor Walter Johnson. Professor Johnson was a legend by the time I was able to take his class. Granted, it was difficult, and he challenged you to go beyond the simple answer to a question, problem or situation. Perhaps that's why I remember it so fondly. In law school, my favorite class was Labor Law with Dean Tim Heinsz. In addition to his classroom instruction, he invited interested students to accompany him as observers to labor arbitrations in which he was the arbitrator, then would take the time during lunch to discuss with us what we had observed and apply our classroom instruction with those real-life situations. He is one of the reasons I chose to practice labor and employment relations law. His untimely passing dealt a great blow to our MU community.
What is something about you people might be surprised to know?
I am a huge fan of Formula 1 racing. Several years ago, my wife and her sister gave me the gift of attending a racing school at Las Vegas Motor Speedway, where I was able to drive a Champ Car replica at an average lap speed of 157 mph for several laps under the lights. Racing that fast while you are six inches above the ground and the wind is whistling past your helmet is almost difficult to describe. In fact, I was speechless when I finally climbed out of my car.
Why did you decide to be active in the MU Alumni Association?
I had been a member of the association since graduating from the J-School in 1985. In 1996, I thought it would be interesting to become involved on one of the national standing committees as a volunteer; I really didn't care which one. At the time, the association's Rules Committee was where lawyer volunteers seemed to land. That's where I was asked to serve, and I got my first intriguing glimpse at how the association worked.
Here's your chance, Jay, to share why all Mizzou alumni should join MUAA.
During our times as students, we receive much from the University, both in and out of class. Eventually, and that point differs from person to person, there is a time to give something back. The association strives to be the preeminent resource for the University and support Missouri's flagship University through lifelong relationships. Those relationships are enhanced through advocacy, communication and volunteerism. I believe all alumni should work to improve this University for our children's benefit. Their membership in the association provides them access to unique mechanisms through which to work for this improvement.
Updated: November 3, 2011